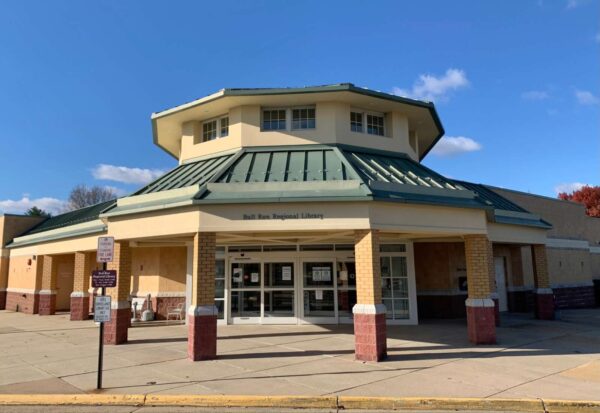 Another library in Prince William County will get a makeover.
Bull Run Regional Library will close for six months on Monday, December 13. The renovation will include a new digital media studio equipped for video production, an updated children's section, a new study room, and new furniture.
To create a more open floor plan, the library will remove an information desk that currently sits in the middle of the building. A new service kiosk will be added, a library spokeswoman states.
The last day to use the Bull Run Library before it closes is Saturday, December 11. Afterward, any books placed on hold to be picked up at Bull Run will be moved to Central Library, five miles away, outside Manassas.
The renovation of the 25,000 square-foot library, located at 8051 Ashton Avenue near Manassas, will cost just under $1 million.
About this time last year, Central Library reopened after a six-month renovation. A new maker space lab was added. The county's RELIC office focused on local history and genealogy, relocated to Central from Bull Run Libary.
Here's the full press release from Prince William County Public Libraries about the upcoming building closure:
Bull Run Library is scheduled to close for renovations beginning Monday, December 13. The last day the library will be open to the public before closing is Saturday, December 11.

The renovations are expected to take at least six months. The projected costs for the renovation – covered by proffers – total $965,345.

"Bull Run Library continues to be a hub for local residents, bringing people together in their shared love of literacy, learning, and community," comments Deborah L. Wright, director. "The upcoming renovations will help make the library even more inviting and welcoming, while also making it more functional for the public to enjoy."

Bull Run Library, first opened in 1994, is one of two "regional" Prince William Public Libraries. Located at 8051 Ashton Avenue, the 25,000 square-foot building will be renovated to include:

New Makerspace: The state-of-the-art Makerspace will include new technology and craft tools and equipment. A Digital Media Lab will offer a digital graphic design studio suite, animation studio, green screen, video and audio editing equipment, and more. Laptops and iPads will be integrated to provide a holistic maker experience. There will also be a Cricut, sewing machine, 3D printer, and more for residents to learn and express their creativity. The space will be open daily and will have a dedicated Maker Library on-site to help answer questions and provide technical support. There will also be opportunities to learn in both group and individual settings.

Additional Study Room: A new quiet study room will be added for a total of two reservable meeting rooms available to the public.

Updated Children and Young Adult Areas; New Dedicated Tween Area: These inviting, versatile spaces will be perfect for homework, homeschooling, tutoring, and book clubs. The designated areas will also be used for STEAM and craft programs.

Open Floorplan: The Information Desk that is currently in the middle of the library will be removed, allowing for a more open floorplan and natural flow to allow patrons the opportunity to explore all the library will have to offer. Staff will still be available to assist patrons at a single Service Desk.

New Furniture: Café seating will be placed in the lobby, giving patrons more options to comfortably enjoy reading, learning, and socializing.
While the library is closed, the book drop will remain open. Any books placed on hold at Bull Run Library will be sent to Central Library to be picked up. Patrons can change their pickup location from Bull Run Library to the library of their choice through their online account. Updates about the renovation will be posted periodically on pwcva.gov/library.

About Prince William Public Libraries:
Prince William Public Libraries consists of 12 branches throughout Prince William County and the City of Manassas, providing free access to books, e-books, e-audio, print and digital magazines, Digital Library, and CDs/DVDs. PWPL also offers free educational and entertaining programs for all ages.
0
Comments