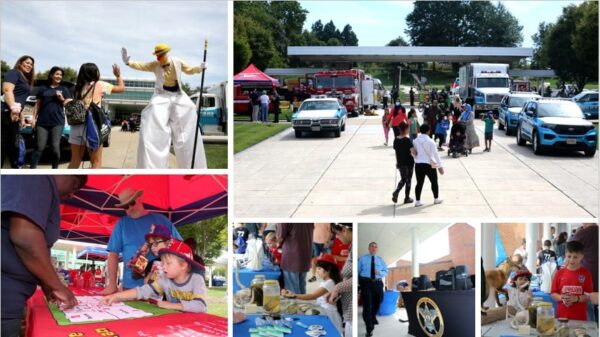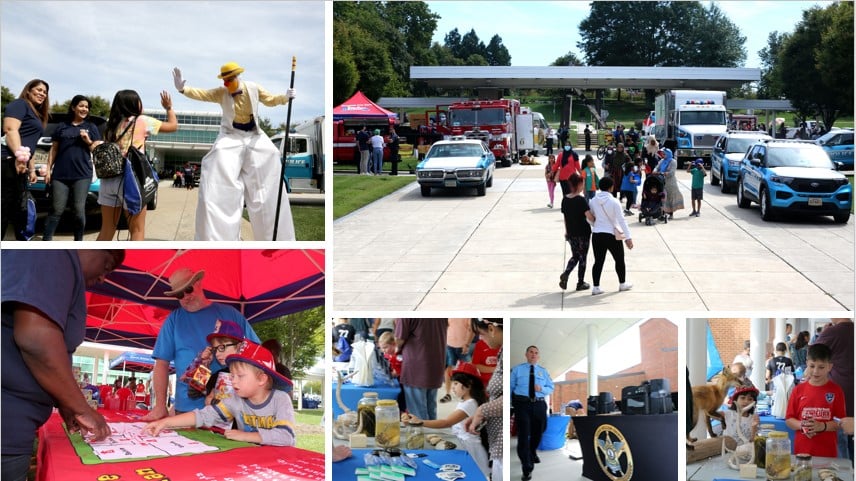 The Prince William County Police Department will host a community fair on Saturday, Sept. 24, 2022, to celebrate the county's diversity, embrace unity among the various communities in the county, and to showcase the many facets of police work in the county with displays, fun activities, appointments with a recruiter, pet adoptions and much more.
A host of Prince William County agencies will be on hand to register voters, sign up election officer volunteers, adopt a companion animal, complete a Child ID form for children's safety, sign up to receive emergency alerts, learn about employment opportunities with the Police, Fire & Rescue and Public Safety Communications agencies.
The event is from noon to 4 p.m. at the Sean Connaughton Plaza, 1 County Complex Court in Woodbridge, at the county government center.
Residents are invited to attend the community fair, which also will feature displays from numerous county public-safety agencies and other County government organizations, community organizations, live music and food trucks. There will be performers available for photo opportunities and face painting for the young and the young-at-heart.
Background investigators and recruiters will be present to speak to anyone interested in a career as a police officer. Job applications will be accepted that day. The Department is committed to a diverse workforce and encourages all interested applicants to contact the Prince William County Police Personnel Bureau at 703-792-6580 or visit the Department's recruiting website.
0
Comments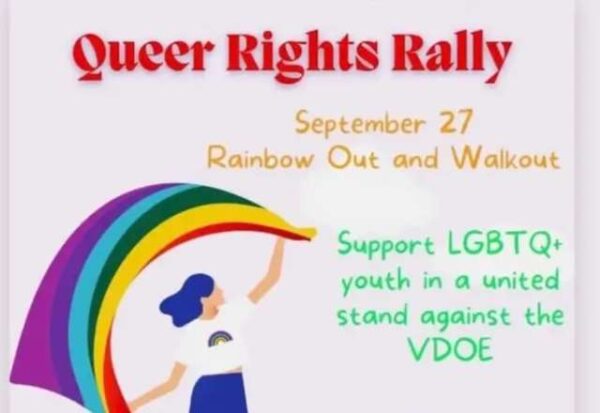 Students at Colgan High School are urged to walk out of classes supporting queer rights.
A flier circulating the school and online promotes a rally at 9 a.m. Tuesday, September 27, outside the school at 13833 Dumfries Road in Prince William County. Students are encouraged to wear bright colors of the rainbow and protest a recent decision by the Virginia Department of Education, which shifts control of transgender issues back to parents.
Under the ruling issued this week, Virginia public schools will no longer be allowed to provide gender-affirming counseling services to students without first consulting with their parents, per new guidelines from the Virginia Department of Education.
In a shift away from the previous administration, the new guidelines state parents must be informed and allowed to object before the school provides counseling services related to gender. The guidelines say schools should designate a counselor to speak with the student and parents if the parents request.
Prince William County Public Schools spokeswoman Diana Gulotta says students who attend classes at the government school division have a constitutional right to walk out in protest, particularly on political speech issues. "This must be done safely and with minimal disruption," Gulotta told Potomac Local News.
An email from Colgan's principal to parents listing upcoming events at the school, like forthcoming sporting events, math tutoring, Dungeons and Dragons crochet club meetings, and the school's Homecoming Dance, at the school, omitted the organized walkout.
More than 2,800 students attend Colgan High School.
Gulotta said Prince William County Public Schools would review the state policy changes and determine how to implement them.
"PWCS remains committed to its nondiscrimination policy inclusive of sex, gender identity, and sexual orientation. PWCS supports an inclusive environment for all students and staff," Gulotta told Potomac Local News.
0
Comments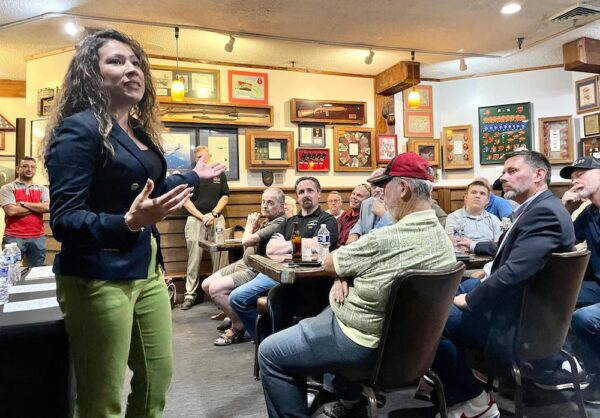 Republican congressional candidates are focused on Prince William and Stafford counties.
Yesli Vega (R), a Board of County Supervisors member seeking to flip Virginia's 7th Congressional seat, will hold a get-out-the-vote rally tomorrow, Saturday, September 24, at her campaign headquarters outside Quantico.
The event at 9:30 a.m. at 18354 Quantico Gateway Drive in Triangle aims to rally support for Vega in eastern Prince William, which is the most populated area in the 7th District that spans 10 counties, Culpeper, and Fredericksburg, as early voting for the November 8 General Election is underway.
Vega is running against two-term Democrat Abigail Spanberger, who last week attended a celebration at the White House to celebrate the passage of the Inflation Reduction Act, which is a significant advance on congressional Democrats' progressive plan, which aims to curb global warming, and authorizes 87,000 more IRS agents to audit citizens and businesses.
While Spanberger was at the White House celebrating the Inflation Reduction Act, news broke of continued rising costs, particularly food and housing costs rising to their most expensive levels since the Carter administration in 1979. Spanberger did not return our request for comment, asking about her support for the Inflation Reduction Act and when the bill would begin benefitting U.S. citizens.
Vega's campaign event comes on the heels of a veterans' roundtable held at the Globe and Laurel restaurant in Stafford County on Wednesday, September 21. The discussion ranged from the lack of services offered by the Veterans Services Administration, adjusting to civilian life, PTSD, and a discussion about a lack of accountability over the withdrawal of troops from Afghanistan, where many served.
Last weekend, Hung Cao barnstormed Virignia's 10th Congressional District, with stops in Haymarket, Manassas, and the Prince William County Government Center in Woodbridge. Cao is challenging two-term incumbent Democrat Jennifer Wexton. The 10th District spans five counties and includes Manassas, Manassas Park, and Leesburg.
Wexton also voted twice for the inflation reduction act. Wexton cast her vote on her behalf and for Rep. Cindy Axne (D-Iowa), who was on vacation in Europe.
The Cook Political Report shows Virginia's 7th District leans Democrat and estimates the 10th District will remain firmly in Democratic control following the November 8 General Election.
Early voting for the November 8 General Election begins today, September 23.
Need to know election info: 
First day of in-person early voting at your local registrar's office: Friday, September 23, 2022

The deadline to 

register to vote or update an existing registration is October 17, 2022.
 The deadline to apply for a ballot to be mailed to you is October 28, 2022. Your local voter registration office must receive your request

 by 5 p.m.

Voter registration offices open for early voting: 

Saturday, October 29, 2022.

The last day of in-person early voting at your 

local voter registration office

: is 

Saturday, November 5, 2022, at 5 p.m.
0
Comments
"America's Favorite Mystifier" Mike Super brings his mind-blowing illusions and combined hilarity of a headline comedian to the Hylton Center to entertain and enthrall the whole family. Mike has turned the traditional magic show on its side and dumped it right into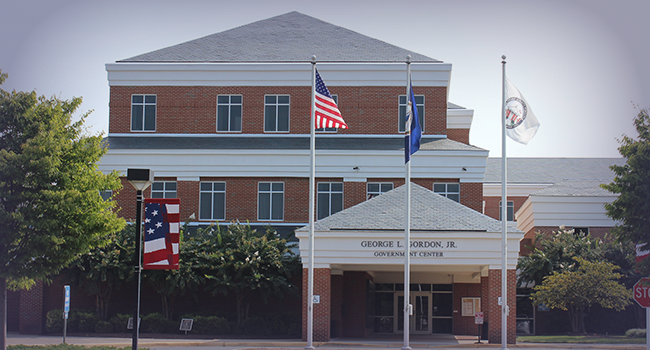 Stafford County wants to buy more land for environmental preservation.
The plan to add 152 acres of land to the county's Purchase of Development Rights program was discussed at a recent meeting of the county's Community and Economic Development Committee meeting.
The county is considering two parcels called the Jones and Moore properties. The Jones property is 70 acres, while the Moore property is 82.
Both parcels sit in the rural George Washington District, in the southeast portion of the county. The recommendation to acquire these lands was made in January 2018 by the county's Agriculture and Land Conservation Committee.
According to its website, the program enables Stafford County to acquire voluntary conservation easements given voluntarily by property owners to ensure that local resources are protected and used efficiently. The program already has 1,035 acres of local land under its auspices.
The parcels' inclusion in the program would also limit any further residential development on the property.
According to the county spokeswoman Shannon Eubanks, the properties would be acquired to preserve prime agricultural soils, farmland, forestland, and other significant natural resources.
The county would pay $362,500 for both pieces of land. The Jones parcel will cost $152,500, while the Moore parcel will cost $200,000.
Once a government buys property through a purchase of development rights program, the property owner may continue to live and farm on the land but may never sell the property to a private party.
The county has applied for funding through the Virginia Land Conservation Foundation and the U.S. Department of Agriculture. It will also use its funds for costs such as appraisal and closing fees. According to county documents, that revenue will need to be appropriated from Roll Back Tax revenue, which has been earmarked for the land purchase.
Stafford County is currently accepting new submissions for the program. New applicants have until September 30 to apply for the program.
The county's acquisition of the parcels is currently in progress and is expected to be completed by December 2022.
0
Comments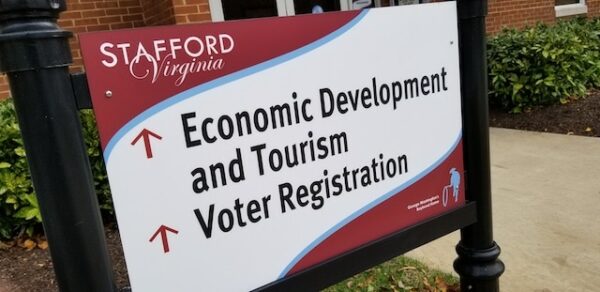 By Natalie Barr
Capital News Service
Virginia voters can cast their ballots for the November election starting Friday, Sept. 23.
Voters can submit absentee ballots by mail or in person at their local registrar's office, commonly referred to as early voting. No application or reason is necessary to vote early. Some jurisdictions may have additional satellite locations, according to a press release from the Virginia Department of Elections.
Early in-person voting will also be held the two Saturdays preceding Election Day. In-person early voting ends on Nov. 5, the Saturday before the election.
New this year is the ability to register to vote up to and on Election Day. Any voters who register after the Oct. 17 deadline will be given a provisional ballot. Legislators have passed voting reform measures in recent years that expand access to the polls.
VCU Votes, a student-led coalition at Virginia Commonwealth University in Richmond, educates students on the importance of voting, according to the organization's mission statement. The coalition recently held a student voter registration event on National Voter Registration Day.
Cameron Hart, director of partnerships for VCU Votes, said the group also promotes the importance of elections. Students need the space to educate themselves and develop their own thoughts and make their own decisions, Hart said.
"It's very important to vote and use your voice and exercise that civic duty," Hart said.
Many students who came to the event were already registered to vote, Hart said. Hart wants people to view voting as important for all elections, not just presidential races.
"I feel like it's important to vote in any election, but also stressing the importance of voting locally," Hart said. "This election is directly affecting us. If you feel a certain way about a law, voting can help express your voice in order to maybe reverse that law."
The upcoming election will be the first time voting for physical therapy student Nikolett Kormos. Kormos, a freshman, said she registered to vote at the event.
"I think it's super important to vote, and for young people to vote," Kormos said. "It keeps us educated."
Absentee ballots will be mailed starting Sept. 23 to military and overseas voters, and to anyone who has applied to receive one, according to a state Department of Elections press release.
Voters can request a mail-in absentee ballot through the Department of Elections site until Oct. 28. Mailed ballots must be postmarked by Nov. 8 and received by the registrar no later than noon on the third day following the election, according to the Department of Elections.
Mailed ballots also require a witness signature. Ballots can be dropped off at the registrar's office by 7 p.m. on Election Day.
Voters can direct questions to their general registrar's office or the Department of Elections, where they can also see whattypes of identification are accepted.
Capital News Service is a program of Virginia Commonwealth University's Robertson School of Media and Culture. Students in the program provide state government coverage for a variety of media outlets in Virginia.
0
Comments
Rapdidflight, an unmanned aircraft systems company, will invest $5.5 million to establish its systems design and manufacturing operations in Manassas.
The company's 25,000-square-foot facility sits at 9617 Center Street in Manassas,  at the former home of the Georator Corporation, where it will create 119 new jobs over the next three years.
"RapidFlight locating in Manassas further cements our city's position as a leader in the design and production of unmanned air systems," said Mayor Michelle Davis-Younger. "Our skilled workforce, industry-leading companies, and community assets all combine to make Manassas a world-class destination for businesses and residents alike."
The company chose Manassas for its talent pool because of the city's efforts to connect employers with job seekers. The city is also home to Aurora Flights Sciences, a company founded in the city and later acquired by Boeing, which also focused on unmanned flight systems.
"Virginia is uniquely positioned to lead the unmanned systems industry, and RapidFlight is on the cutting edge of developments in this innovative technology sector. We look forward to supporting the company's growth in the City of Manassas," said Governor Glenn Youngkin (R). "Since day one we've declared that Virginia is open for business, and businesses such as RapidFlight is a prime example of the success and growth that businesses can achieve in the Commonwealth."
RapidFlight's new headquarters in Manassas also places the company near Manassas Regional Airport (HEF), the busiest small airport in Virginia.
"Thanks to its central location on the East Coast, we can readily work face-to-face with our government customers while also leveraging Virginia's Unmanned Systems' infrastructure to conduct operations and test our systems, rapidly delivering new capabilities to our Nation, says Dr. Jay Gundach, Ph.D., RapidFlight's Chief Executive Officer.
"RapidFlight will renovate the former Georator building, which the firm abandoned about a year ago, to be the headquarters of their unmanned aircraft system design and manufacturing operation. This will offer the company's growing workforce a combination of ease of accessibility and nearby amenities, including Historic Downtown Manassas.
The company seeks engineers, manufacturing technicians, program managers, administrative staff, and other unmanned aircraft systems positions.
RapidFlight is an integrated unmanned aircraft system design and production firm. Founded by aircraft systems expert John "Jay" Gundlach, Ph.D., RapidFlight's high-performance systems are designed to meet evolving national security and private sector demands of the United States and its allies.
The company takes an agile approach to flight system design, aggressively responding to mission requirements and dramatically reducing the time from concept to mission through Additive Manufacturing (AM), advanced avionics, and innovative propulsion systems.
0
Comments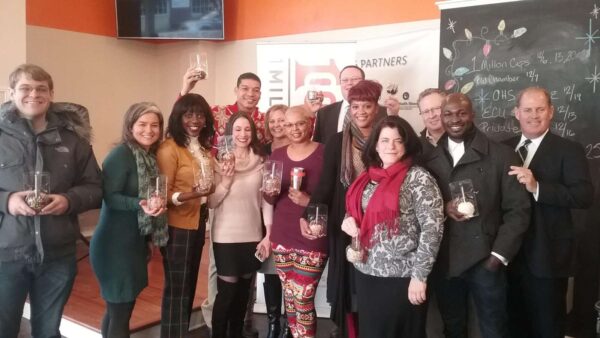 The Prince William Chamber of Commerce will partner with 1 Million Cups Prince William. 
1 Million Cups Prince William brings local entrepreneurs together to engage, educate, and connect over a cup of coffee. The group meets each week in Manassas.
"The Chamber is dedicated to creating powerful connections and resources for community businesses, giving them access to a multitude of opportunities to engage with other businesses. CEO of the Prince William Chamber of Commerce, Debbie Jones says, "Our commitment to the local business community continues with our partnership with 1 Million Cups, handing local business owners an amazing tool to engage on a more personal level with other business owners."
"I've been active from the beginning as a founding organizer with 1 Million Cups, because it's about small businesses owners and professionals discussing the issues we deal with daily," said Jim DiModica, past Chamber Chair and co-founding organizer of 1 Million Cups Prince William. "We are excited to partner with the Chamber more formally."
Every Wednesday morning at Centerfuse, 9701 Center Street in Manassas, from 8:30-10:00 a.m., the group brings one early-stage startup to present their companies to the audience. Following each presentation, a 45-minute question and answer session follows with the audience engaging with the founder in the discussion. 
Every meeting is open to the public and free of charge, with coffee provided. No registration is required to attend a 1 Million Cups Prince William event.
1 Million Cups expanded to Prince William County and Manassas in 2013 and originally held meetings at the Hylton Performing Arts Center. Every Wednesday morning, 1 Million Cups groups across the U.S. meet to help entrepreneurs.
0
Comments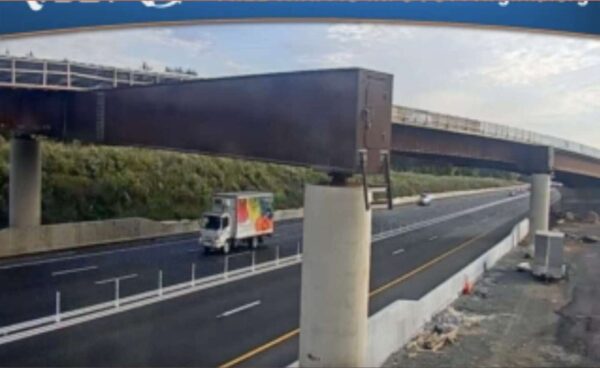 Riding the E-ZPass Express Lanes will cost you as the grace period ends.
The Virginia Department of Transportation and I-66 Express Mobility Partners (EMP), builders of the I-66 E-ZPass Express Lanes, will institute the tolling and HOV rules as planned on Saturday, Sept. 24, on the recently opened western section of 66 Express Lanes.
Drivers can use this nine-mile stretch of new Express Lanes from Route 29 in Gainesville to Route 28 in Centreville by paying a toll or can ride toll-free if traveling as an HOV with two or more people and an E-ZPass Flex.
The westernmost segment of 66 Express Lanes opened to all traffic toll-free on Sept. 10, providing motorists with early travel benefits and the opportunity to become familiar with the new lanes and access points. This section of Express Lanes opened ahead of schedule and in advance of the remaining 13 miles of 66 Express Lanes from Route 28 in Centreville to I-495 (Capital Beltway), which are currently scheduled to open in December 2022.
What Drivers Need to Know:
Once tolling and HOV rules go into effect, drivers will see their individual toll price on electronic signs in advance of choosing to enter the lanes.
Tolls for the 66 Express Lanes will be based on traffic volumes and speed, in order to manage demand for the lanes and keep traffic moving.
Passenger vehicles such as cars, SUVs, minivans, and pickup trucks will pay the same toll rate.
Larger vehicles and large trucks are allowed to use the 66 Express Lanes but will pay a higher rate.
Motorcycles can use the lanes for free.
Drivers can pay their tolls using an E-ZPass transponder or by using one of the other payment options available through I-66 EMP such as paying online, via the mail, by calling 833-643-2867, or in person at the 66 Express Lanes Customer Service Center in Manassas. Payment options other than E-ZPass will incur administrative fees. More information can be found at Ride66express.com.
Drivers can obtain an E-ZPass at ezpassva.com, by calling 877-762-7824, or in person at many Giant and Wegmans grocery stores in Northern Virginia, as well as at AAA offices, Fairfax Connector stores, and DMV Customer Service Centers.
Details for HOV Travelers:
Eligible HOVs can use the 66 Express Lanes toll-free but must have an E-ZPass Flex set to the "HOV On" mode.
Vehicles must have two or more occupants to qualify as HOV.
When the remaining portion of the 66 Express Lanes opens later this year, vehicles will need to have three or more occupants to qualify as an HOV.
This change from HOV-2+ to HOV-3+ will apply across the entire I-66 corridor between Route 15 in Haymarket and the Washington, D.C. line – including 66 Express Lanes located inside and outside the Beltway – and is consistent with HOV requirements on the other Express Lanes in Northern Virginia.
How to Access the 66 Express Lanes Western Section:
Drivers traveling eastbound on I-66 can merge onto the Express Lanes from the general purpose lanes prior to Route 29 in Gainesville and by using a slip ramp prior to Route 234 Business.
Drivers traveling westbound on I-66 can access the Express Lanes from the general purpose lanes prior to Route 28.
New dedicated ramps provide access at Route 234 Business, Route 28, and Braddock and Walney roads, as well as from two new commuter parking lots at University Boulevard (Gainesville) and Century Park Drive (Manassas), which were built as part of the overall Transform 66 Outside the Beltway project.
Motorists are urged to continue using caution when traveling on I-66, as active construction, including paving operations, lane shifts, and work on interchanges, bridges and ramps, continues in many areas. Following the anticipated December opening of the remaining 66 Express Lanes, final construction elements will continue and are scheduled to be completed in mid-2023.
Visit ride66express.com to learn more about the lanes and transform66.org to stay informed about I-66 construction activities.
0
Comments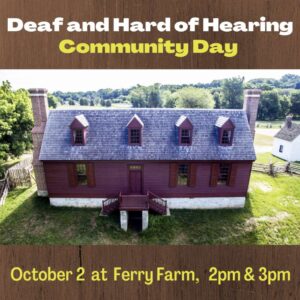 Participants can tour the Washington House interpreted by Abbie Castillo (using American Sign Language). Before or after the tour, participants are encouraged to explore the grounds, garden, and Visitor Center galleries.
Tour times are 2:00 p.m. and 3:00 p.m. Reservations are encouraged as