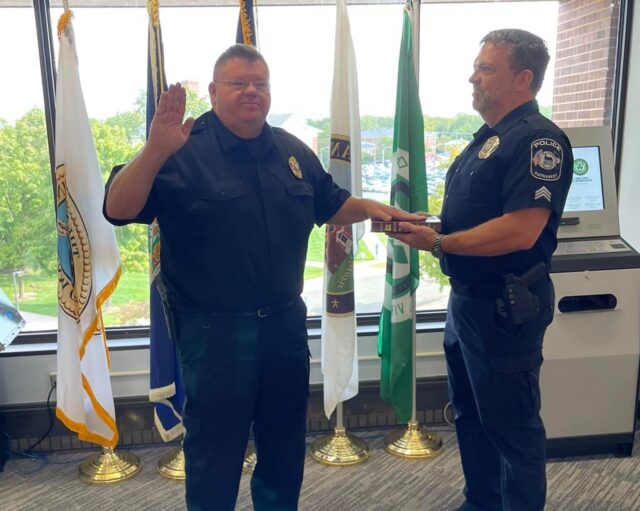 Recently hired Chief of Police Al Siebert spends his first 100 days making a full review of the Haymarket Police Department.
Siebert made his report to the Haymarket Town Council which consisted of a review of the department. The newly-appointed chief held audits and inventories of everything from making sure policies were up to date, to inventory of resources and equipment, and making changes to document filing which the chief had found to be problematic.
One of the main aspects of the report was a full review of the department policy to make sure they were up to date, conformed to current practices, and were accredited. Siebert reported that 80 policies were written generally but were hard to read and not easy to follow. The policies followed by the Haymarket Police Department were based on policies followed by police departments in Southwest Virginia which were adopted and accredited in 2016.
According to the chief, the department is currently updating the policies to make them current, easy to read and customized to Haymarket, a town located on Interstate 66 in Prince William County.
A full inventory of police personnel and equipment was also made, the results of which Siebert called "remarkable" in his report. Currently, the Haymarket Police Department has six full time officers and three part time officers that have an average of 15 years of experience which makes the department personnel one of the more experienced in the area. Siebert's assessment found that all of the officers have certifications in two or more fields of specialties.
The department also did an inventory of its equipment and found it all to be in good shape, Siebert announced that moving forward there would be semi-annual inspections of all police property to make sure that it all stays up to standards.
Siebert also held an inventory and audit of the department's evidence room as well as their procedures for documenting and labeling all items kept for evidence. The Chief's report found that all property and evidence were accounted for and standards are being met.
The department plans to procure a safe for extra security of valuables, drugs, and weapons, the department is also currently purging any property and evidence no longer needed.
One issue found by the audit was that the department's storage of internal documents was found to be problematic. Instead of keeping the documents on a central server, the department was found to instead use external hard drives to hold documents. Siebert reported that a new server would be installed and would be completed by the end of the month.
Siebert also reported that the department would also restart its Drone program, the Haymarket police does own a drone which could be used for assisting officers in search and rescue, traffic collision investigations, crime scene analysis, crowd monitoring, surveillance, town planning needs, structural issues, among other uses.
Siebert had wanted to get the program up and running in his first 100 days but complications such as a certification class officers needed for the program was canceled and damage to the drone itself delayed the program's relaunch.
Going forward Chief Siebert wants to have plans for department budgets that look towards the next five to ten years and create development plans for the officers for advancement. All these will help to provide quality service and engagement to the community according to the chief.
0
Comments