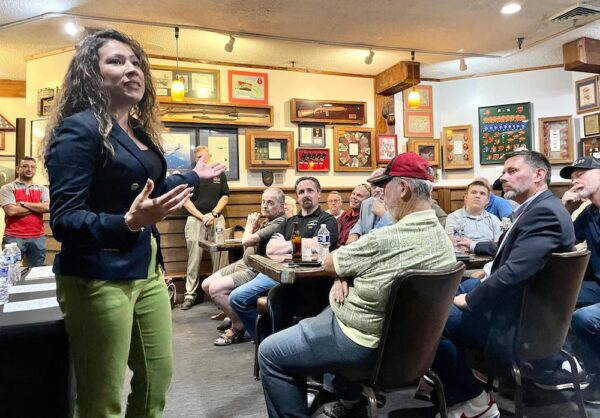 Republican congressional candidates are focused on Prince William and Stafford counties.
Yesli Vega (R), a Board of County Supervisors member seeking to flip Virginia's 7th Congressional seat, will hold a get-out-the-vote rally tomorrow, Saturday, September 24, at her campaign headquarters outside Quantico.
The event at 9:30 a.m. at 18354 Quantico Gateway Drive in Triangle aims to rally support for Vega in eastern Prince William, which is the most populated area in the 7th District that spans 10 counties, Culpeper, and Fredericksburg, as early voting for the November 8 General Election is underway.
Vega is running against two-term Democrat Abigail Spanberger, who last week attended a celebration at the White House to celebrate the passage of the Inflation Reduction Act, which is a significant advance on congressional Democrats' progressive plan, which aims to curb global warming, and authorizes 87,000 more IRS agents to audit citizens and businesses.
While Spanberger was at the White House celebrating the Inflation Reduction Act, news broke of continued rising costs, particularly food and housing costs rising to their most expensive levels since the Carter administration in 1979. Spanberger did not return our request for comment, asking about her support for the Inflation Reduction Act and when the bill would begin benefitting U.S. citizens.
Vega's campaign event comes on the heels of a veterans' roundtable held at the Globe and Laurel restaurant in Stafford County on Wednesday, September 21. The discussion ranged from the lack of services offered by the Veterans Services Administration, adjusting to civilian life, PTSD, and a discussion about a lack of accountability over the withdrawal of troops from Afghanistan, where many served.
Last weekend, Hung Cao barnstormed Virignia's 10th Congressional District, with stops in Haymarket, Manassas, and the Prince William County Government Center in Woodbridge. Cao is challenging two-term incumbent Democrat Jennifer Wexton. The 10th District spans five counties and includes Manassas, Manassas Park, and Leesburg.
Wexton also voted twice for the inflation reduction act. Wexton cast her vote on her behalf and for Rep. Cindy Axne (D-Iowa), who was on vacation in Europe.
The Cook Political Report shows Virginia's 7th District leans Democrat and estimates the 10th District will remain firmly in Democratic control following the November 8 General Election.
Early voting for the November 8 General Election begins today, September 23.
Need to know election info: 
First day of in-person early voting at your local registrar's office: Friday, September 23, 2022

The deadline to 

register to vote or update an existing registration is October 17, 2022.
 The deadline to apply for a ballot to be mailed to you is October 28, 2022. Your local voter registration office must receive your request

 by 5 p.m.

Voter registration offices open for early voting: 

Saturday, October 29, 2022.

The last day of in-person early voting at your 

local voter registration office

: is 

Saturday, November 5, 2022, at 5 p.m.
0
Comments