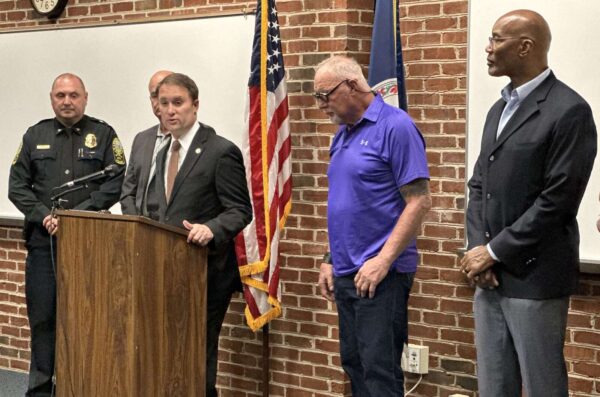 Virginia Attorney General Jason Miyares was in Manassas today, Thursday, May 25, 2023, to discuss a new plan to give child ID kids to middle school students.
The kits are part of the National Child ID Program and contain places to hold identifiable information about a child, including a photo, DNA, and fingerprints if a child goes missing. The children will be instructed to take the kids home to their parents.
"This is like fire insurance. You will only give this to the authorities if the unthinkable happens," said Miyares, during a press conference at Grace E. Metz Middle School in Manassas.
Miyares is on a statewide tour of middle schools to announce the program's rollout. Middle school students are the most vulnerable to human trafficking and exploitation, said Miyares.
More than 2,300 children are considered missing each day in the U.S. The majority of them are in their mid-teens.
At the press conference, former Washington Redskins player Charles Mann, and Dallas Cowboy player Randy White, flanked Miayres. "People used to say I was great in playing defense with the Redskins and the [San Fransisco] 49ers. They said it always seemed like I was prepared when I was playing. We want to prepare for the god-awful event someone goes missing," said Mann.
Mann encouraged parents to hide the child's ID kids in their safe or bible. Miyares assured residents that information collected on the card remains in people's homes and is not sent to a federal database for tracking purposes.
The region's top law enforcement officers were on hand for the event, including Manassas Police Chief Douglass Keen, Prince William County Police Chief Peter Newsham, and Prince William County Sheriff Glen Hill, whose department regularly distributes the child ID kits at events throughout the region.
Prince William police investigate missing person cases, and it's important information about the missing stays in front of the public.
"Our children are one of the most precious commodities that we have when they go missing, and you see those images out there in public, and if you see these kids, you got to get these kids reunited…we have predators in our community that are going to prey on that child. So the only thing I can urge folks to do is to continue to be vigilant, particularly with our kids and this toolkit right here," said Newsham told PLN.
"It's really a no-brainer. If you have children at home, you don't ever want to have a circumstance where you're calling the police and saying, 'My child has gone missing.' But if you do, God forbid, you'll be able to help law enforcement reunite you with your child," he added.
Parents can order the kit online.
Miyares' appearance in Manassas comes during the same week Russian President Vladimir Putin announced Virginia's Attorney General is on a list of people banned from traveling to the country. Miyares, whose mother fled communist Cuba for the U.S., revealed the distinction.
"I view that as a badge of honor. Suppose you know anything about my background. I despise autocracy and dictatorships, both left and right. And the idea that Putin somehow views me and puts me on an enemy's list, I believe in the individual's dignity. I believe in both freedom and freedom of speech and the freedom to criticize your government. None of that happens in Russia," Miyares told PLN.
Miyares was one of more than 900 people from the U.S. banned by Russia from traveling to the former Soviet Union.
0
Comments