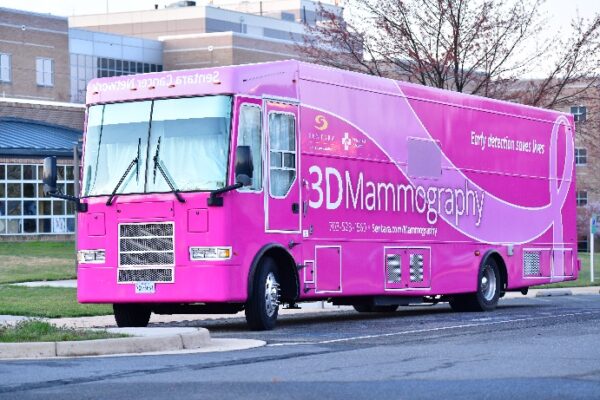 After two-year hiatus, the Sentara 3D mammography van returns to communities in Northern Virginia.
You can spot the van in under-served communities across the region. Employees inside the van provide screenings to help detect breast cancer — to 20 appointments a day.
If you would like to schedule the 3D mobile mammography van, send your request to [email protected] or call 703-523-1997.
More in a press release:
Sentara Northern Virginia Medical Center announces that its 3D mammography van will begin visiting communities throughout its service area beginning March 30, 2023. Challenges brought about by the COVID-19 pandemic and supply chain issues for parts needed for repair kept the van out of service in 2021 and 2022.

The 3D mammography van brings the same state-of-the-art technology that a patient would receive in a Sentara facility into area communities. 3D mammography is the current standard of care for breast cancer screenings and has been proven to find smaller tumors at earlier stages than traditional 2D mammograms. The mobile unit is designed for comfort, with private dressing rooms, central air/heating, and a platform step for safer entry.

"We know that detecting breast cancer early, before it has spread, saves lives," said Melissa Botelho, manager of radiology at Sentara Northern Virginia Medical Center. "By coming into the community or directly to a workplace, the mobile mammography van will bring screening services to those who might not otherwise get this necessary care."

"The mobile mammography team is committed to organizing as many screening events as possible to underserved areas and businesses in Northern Virginia throughout the year," added Botelho.

Mammograms will be available to all individuals. If a patient has health insurance, that information will be gathered in advance over the phone and on-site, and if a patient is uninsured or underinsured, they can complete an application to qualify for financial assistance. Lack of insurance will not be a barrier to receiving care.

Up to 20 mammography appointments can be scheduled in a single day. The mammography van is available for events Monday through Friday. Sentara will also focus on partnering with community organizations and local businesses to provide convenient screenings for employees. In the past, the 3D Mammography Van has gone to local businesses in Northern Virginia that have included Microsoft, Raytheon, and GEICO.

In 2022, Sentara Healthcare provided nearly 17,000 mammograms and more than 2,800 community members participated in cancer screenings through prevention and early detection events held across Virginia and North Carolina. To learn more about Sentara's mobile mammography services, click here.
0
Comments