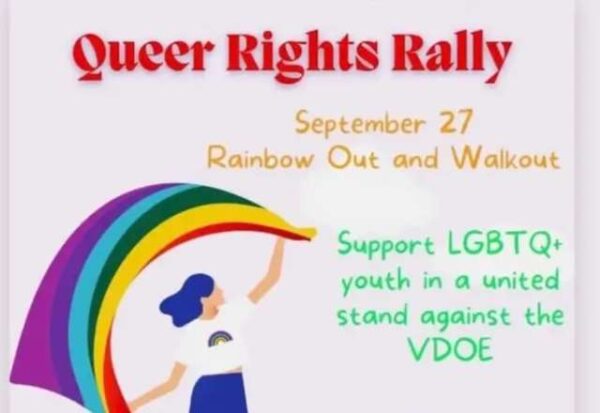 Students at Colgan High School are urged to walk out of classes supporting queer rights.
A flier circulating the school and online promotes a rally at 9 a.m. Tuesday, September 27, outside the school at 13833 Dumfries Road in Prince William County. Students are encouraged to wear bright colors of the rainbow and protest a recent decision by the Virginia Department of Education, which shifts control of transgender issues back to parents.
Under the ruling issued this week, Virginia public schools will no longer be allowed to provide gender-affirming counseling services to students without first consulting with their parents, per new guidelines from the Virginia Department of Education.
In a shift away from the previous administration, the new guidelines state parents must be informed and allowed to object before the school provides counseling services related to gender. The guidelines say schools should designate a counselor to speak with the student and parents if the parents request.
Prince William County Public Schools spokeswoman Diana Gulotta says students who attend classes at the government school division have a constitutional right to walk out in protest, particularly on political speech issues. "This must be done safely and with minimal disruption," Gulotta told Potomac Local News.
An email from Colgan's principal to parents listing upcoming events at the school, like forthcoming sporting events, math tutoring, Dungeons and Dragons crochet club meetings, and the school's Homecoming Dance, at the school, omitted the organized walkout.
More than 2,800 students attend Colgan High School.
Gulotta said Prince William County Public Schools would review the state policy changes and determine how to implement them.
"PWCS remains committed to its nondiscrimination policy inclusive of sex, gender identity, and sexual orientation. PWCS supports an inclusive environment for all students and staff," Gulotta told Potomac Local News.
Recent Stories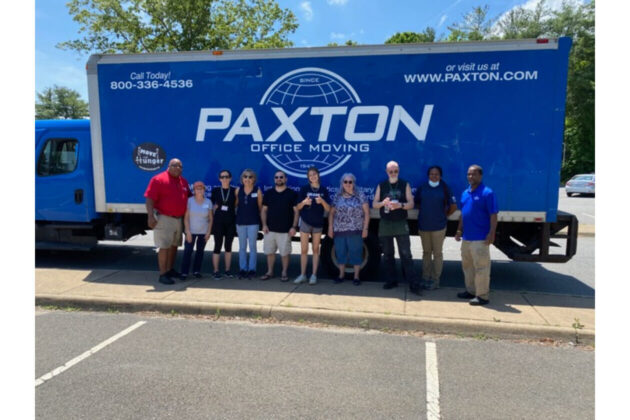 Every Sunday from May until November, the Dale City Farmer's Market offered to donate their leftover fresh produce to the North Virginia Food Rescue to help those struggling with hunger.
The Dale City Farmers Market has been serving its local community since 1987. It is one of the largest open-air markets in the area. Their first donation last May was over 3,300 lbs of produce. That single donation provided 2,825 meals to food insecure communities.
Since that time, they have completed 28 food donations totaling nearly 127,000 lbs taken to the food bank by Paxton Van Lines. This provided more than 105,800 fresh meals to those in need.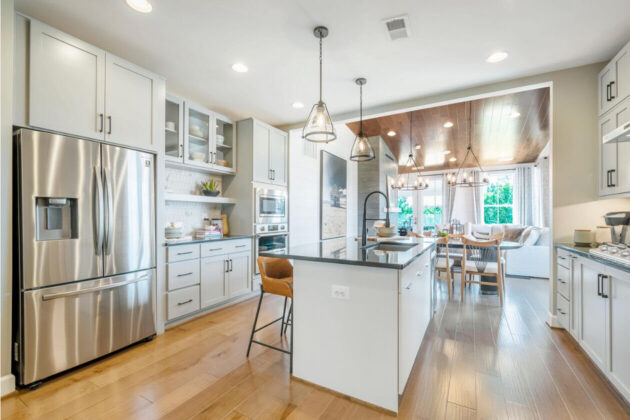 Miller & Smith announces Cascades at Embrey Mill, is now selling. The age qualified 55+ Active Adult community offers main level living with low- maintenance homes designed for homeowners to enjoy a carefree lifestyle in Stafford, Virginia, near Fredericksburg, Quantico and Washington, D.C. The villa style attached homes at Cascades at Embrey Mill are priced from the upper $400,000s. The Rainier plan is available with and without a walkout lower level delivering three to four bedrooms, two to three-and-a-half bathrooms and up to 2,800 square feet with a two-car front entry garage. The Rainier plan prioritizes space and flexibility via uninterrupted flow between rooms. Top wish list items such as a primary suite located on the main level, walk-in closets, and optional add-ons such as vaulted ceilings and zero entry primary showers attract prospective buyers. Other add-ons include a screened- in porch, patio and patio with screened-in porch. Buyers who need extra space can select a Rainier with a walkout lower-level plan. A community surrounded by a wealth of natural beauty, the Cascades at Embrey Mill offers residents 10 miles of trails and community gardens, pools, parks, a community café and multiple gathering spaces. An easy connection via I-95 to nearby national hotspots allows residents to live a universally fun and fulfilled life just minutes from home. Prospective buyers are encouraged to visit the newly decorated model home at 247 Smokebush Drive to see the Rainier model firsthand. Contact Debora Flora at 703-300-1333 for information.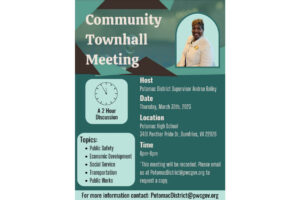 Potomac District community town hall-County officials and Supervisor Bailey will give important updates regarding the happenings in the district relative to transportation, social services, planning, and future projects.
Calling all serious runners, occasional joggers, and weekend walkers of all levels! Participate in the 31st Annual Van Metre 5K Run supporting Children's National Hospital–the event that goes a long way!
Date: Saturday, April 29, 2023
Time: 8:30AM
Location: Broadlands