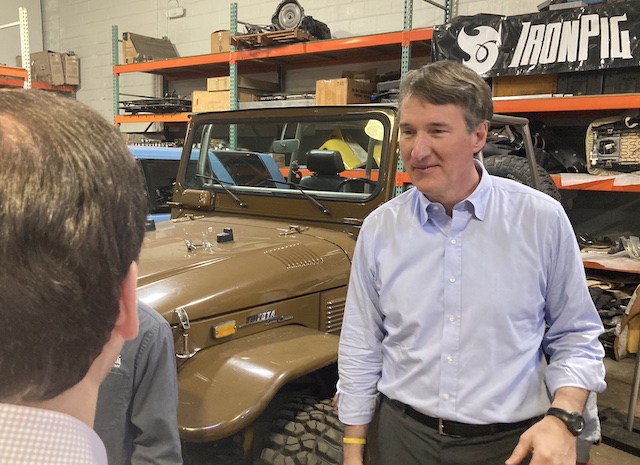 [Updated March 5] Today, Virginia  Governor Glenn Youngkin came to an automotive shop in Stafford County to talk about cutting taxes and got an earful from residents.
Estimating a $14 billion budget surplus over the next three years, Youngkin calls for giving every state resident a $1,500 tax cut during the first year. The Republican, now seven weeks on the job, also called for doubling the standard income tax deduction to $9,000 for single filers, and $18,000 for joint filers.
The governor also said a new gas tax that was to go into effect in July would be suspended for one year. Youngkin also said he is working with leaders in the General Assembly to make good on a campaign promise to eliminate the state's grocery tax.
"The prices of groceries are going through the roof," said Youngkin. "Families are struggling, and we've got to get these prices down."
As of January, the cost of beef and veal was 16% higher than it was in the same month one year earlier. Pork prices are up 14.1%, while eggs are up 13.1%, fish and seafood 12.7%, and chicken up 10.3%, reports the New York Post.
Virginia Democrats and locally elected leaders warn against eliminating the grocery tax, as localities across the state rely on it to fund public schools. Today, Youngkin said he was working with members of the General Assembly to ensure schools would not lose funding if the tax is eliminated but provided few other details.
In addition to lowering the grocery bill, the governor called on local school divisions to offer more classes on farming for children in kindergarten through 12th grade. "We're not growing enough people who like to grow things," said the governor.
Youngkin said farming is the largest private industry in Virginia. He also said he wants more beef and poultry processing in the state so that what's grown here may be consumed here and exported to other states.
Several residents in the audience asked Younking to do more to address the state's growing mental health crisis as the pandemic wanes. They also asked for more support for law enforcement, fire, and rescue crews.
Youngkin said he would like to create a $150 million trust fund to buy needed equipment for first responders across the commonwealth. He explained that the state government would distribute the funding through grants.
The event, dubbed Richmond on the Road, mirrored a campaign stump speech, with Youngkin rallying support for his cause. He asked the crowd, "what would you do with fifteen hundred bucks back in your pocket?"
Some said they would go shopping, while others said they would invest it into their small businesses, repay student loan debt, or pay medical bills.
The event took place at IronPig, an automotive shop in Chatham Heights specializing in restoring Toyota 4x4s. Youngkin inspected a small collection of vintage SUVs.
"When can we go driving?" he asked IronPig owner Lance Williams.
"As soon as you're done talking," Williams replied.
Recent Stories
On February 3, 2023, the Stafford County Health Department confirmed that a gray and white colored, tabby cat collected on Jan 30, 2023 from the 400 block of Widewater Road in Stafford County was positive for rabies.
Tim Hughes, an environmental specialist with the Prince William County Public Works Department, recently accepted a Project of the Year Award from the American Public Works Association Mid-Atlantic Chapter.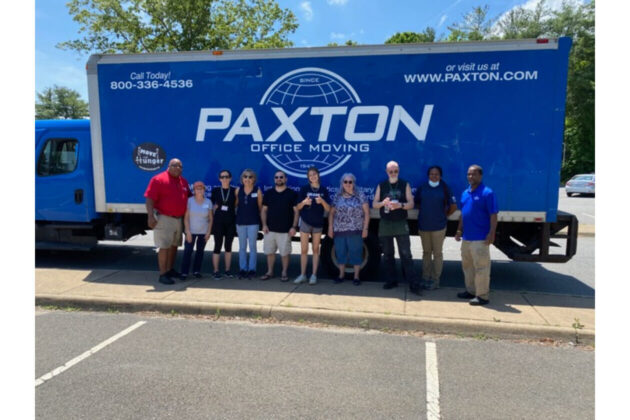 Every Sunday from May until November, the Dale City Farmer's Market offered to donate their leftover fresh produce to the North Virginia Food Rescue to help those struggling with hunger.
The Dale City Farmers Market has been serving its local community since 1987. It is one of the largest open-air markets in the area. Their first donation last May was over 3,300 lbs of produce. That single donation provided 2,825 meals to food insecure communities.
Since that time, they have completed 28 food donations totaling nearly 127,000 lbs taken to the food bank by Paxton Van Lines. This provided more than 105,800 fresh meals to those in need.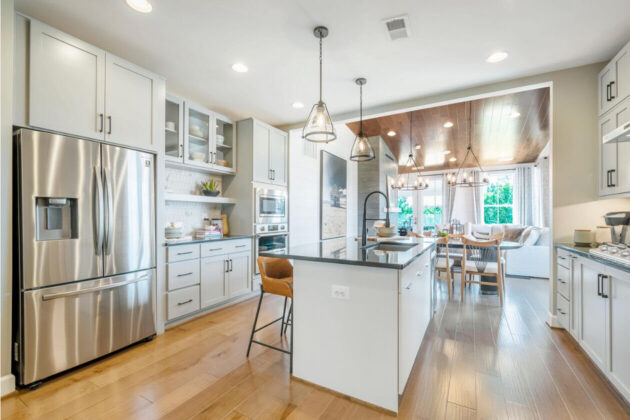 Miller & Smith announces Cascades at Embrey Mill, is now selling. The age qualified 55+ Active Adult community offers main level living with low- maintenance homes designed for homeowners to enjoy a carefree lifestyle in Stafford, Virginia, near Fredericksburg, Quantico and Washington, D.C. The villa style attached homes at Cascades at Embrey Mill are priced from the upper $400,000s. The Rainier plan is available with and without a walkout lower level delivering three to four bedrooms, two to three-and-a-half bathrooms and up to 2,800 square feet with a two-car front entry garage. The Rainier plan prioritizes space and flexibility via uninterrupted flow between rooms. Top wish list items such as a primary suite located on the main level, walk-in closets, and optional add-ons such as vaulted ceilings and zero entry primary showers attract prospective buyers. Other add-ons include a screened- in porch, patio and patio with screened-in porch. Buyers who need extra space can select a Rainier with a walkout lower-level plan. A community surrounded by a wealth of natural beauty, the Cascades at Embrey Mill offers residents 10 miles of trails and community gardens, pools, parks, a community café and multiple gathering spaces. An easy connection via I-95 to nearby national hotspots allows residents to live a universally fun and fulfilled life just minutes from home. Prospective buyers are encouraged to visit the newly decorated model home at 247 Smokebush Drive to see the Rainier model firsthand. Contact Debora Flora at 703-300-1333 for information.