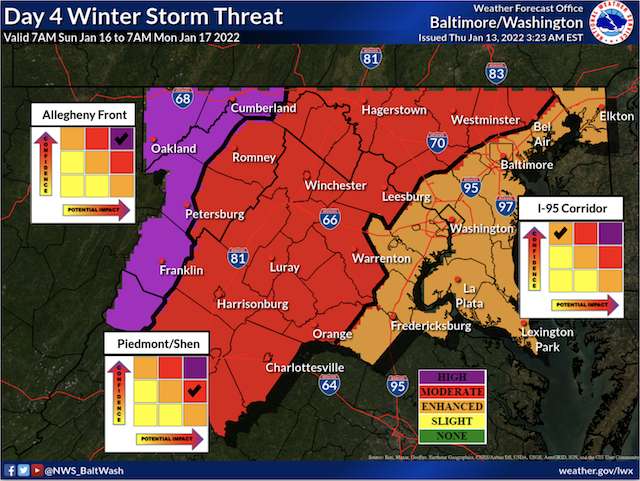 Will it be snow, rain, or the classic "wintery mix?"
Forecasted to arrive during the afternoon on Sunday, January 16, a major winter storm has our area in its sights for a second time in as many weeks. 
The forecast will be tricky, forecasters say, as our area is on the line where cold air will battle it out with warmer air, changing snow to rain and lowering snowfall totals. 
This afternoon, the sure thing is growing confidence among forecasters at Washington, D.C. The National Weather Service office in Sterling is in for wintery weather on Sunday, January 15, when snow is likely to begin falling, mainly after 1 p.m. Expect a high temperature near 41. 
Sunday night, expect rain, snow, and freezing rain before 1 a.m., then a chance of rain and snow, with a low of about 28. 
Here's some of the discussion from the weather service forecasters:  
Confidence has increased in the path of this system at this point, with the expectation that the low pretty much bisects the region tracking west of the I-95 corridor. Virtually all guidance has come to this solution, with still varying tracks by a little here and there. The key is, there is a consensus starting to take shape.

This ultimately translates to a very messy forecast, particularly along the I-95 corridor. With a strong surface high to the north, don't see any way we don't at least see some front end snowfall as the system approaches from the southwest.

However, thinking we see a fairly quick transition to wintry mix then rain along/east of I-95 especially.

For areas west of the I-95 corridor, well it is going to depend on how far west you are. Sill thinking areas east of the Blue Ridge will change over to a wintry mix and even to all rain at some point. 

But think we could see more in the way of snowfall as the cold air holds on longer just along/east of the Blue Ridge. For areas west of the Blue Ridge out to the Alleghenies…this is where we will likely see the big winners in terms of snowfall with this event. Cold air is expected to remain locked in place as the low tracks east of these areas.