WOODBRIDGE — Virginia is one of the states that has yet to ratify the Equal Rights Amendment, but a group in Prince William County is trying to change that.
It kicked off their effort on Women's Equality Day, Sunda, Aug. 26, at the Ferlazzo Building in Woodbridge where they watched Iron Jawed Angels and shared the microphone with ERA champ and television star Alyssa Milano.
"I think it's important to realize how far we've come," Milano said, referring back to the movie which featured the plight of the original Suffragists led by Alice Paul. "I promise you I am on your side," she said.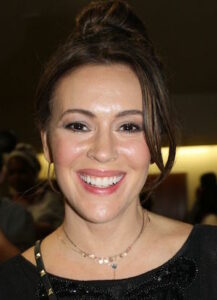 Milano is an advocate for equal rights, has watched the growth of the "MeToo" movement in recent months to highlight and fight against sexual harassment. The incidents with mega-producer Harvey Weinstein surfaced, and she spoke with members on her film crew on the harassment issue and got some shocking feedback.
"It was overwhelming to me," she said, and then started the MeToo tweets. "Seven hours later, there were 35,000 replies," she said, and it just grew from there. "I knew that something spectacular was happening," Milano said.
Delegate Jennifer Carroll Foy (Woodbridge, Stafford) put in House Joint Resolution 567 with fellow  Delegate Hala S. Ayala (D-Prince William County) to ratify the equal rights amendment in Virginia, and the two put together the event to bring this to the attention of women in Woodbridge and beyond.
"This is a longtime coming," said Ayala, "we can't continue down this path by being silent," she said.
Foy looks at the 2017 election as a sign for better things to come for women.
"We saw the impact women are having from the 2017 election, the ERA will be the exclamation point on everything that's happened," she said.
Through her contacts, Milano showed interest in the event and Foy was inspired.
"It felt amazing that someone 3,000 miles away is paying attention to our efforts," she said.
Milano was suddenly on the guest list to the event.
The Equal Rights Amendment was passed by Congress on March 22, 1972, and sent to the states for ratification. In order to be added to the Constitution, it needed approval by legislatures in three-fourths (38) of the 50 states, according to the ERA website.
If passed, House Joint Resolution 567 will mean Virginia will be the 38th state, and the amendment will pass. The ERA bill states "Men and women shall have equal rights throughout the United States and every place subject to its jurisdiction. Congress shall have power to enforce this article by appropriate legislation." Equal pay, maternity leave and domestic violence were just a few of the elements that would be addressed by the ERA.
The night at the Ferlazzo building was kicked off by "Iron-Jawed Angels," the 2004 movie starring Hillary Swank as Alice Paul, the lead suffragist who led a campaign in 1914 to give women the right to vote. The plot contained Washington Post reporters, fasting, prison, a gnarly female prison guard, protests, force feeding, and a parade in Washington that ended badly.
Good stuff for movie fans, but not entirely accurate, especially about the presence of African-American women, Ayala said.
"The night of terror was much worse than depicted in the movie," said Ayala. After the two-hour movie, there was a clarification film narrated by one of the original suffragists great grand daughter to clear things up, but in the end, the point was made.
Recent college graduate Hannah Majchrowitz was there after her friend told her about it, but it has opened her eyes.
"As a young person, I know that I need to be a little more active in politics," she said.
Pamela Sheehan was impacted by Milano, who posed for pictures with everyone after the event, and was really personable. If the name isn't familiar, Milano was one of the stars on the 1980's television hit show "Who's the Boss."
"It was great to have her here," Sheehan said. "She seemed really friendly," added Sheehan's friend Sarah Crisman.
Other local figures were in attendance including Sen. Jeremy McPike (D-29), Del. Charniele Herring (D-46), Prince William County Neabsco District Supervisor  John Jenkins, and Lilly Jesse, of the Prince William School Board.
A film crew making a documentary showed up as well, led by independent film producer Leslie Macla.
Milano had a visit to Virginia on her schedule for a while, stopping in Alexandria Sunday afternoon before Woodbridge. After the event, she was headed back to the airport for a flight back to California, where she has seven districts to visit.
"Ever since that 'MeToo' tweet, it's been growing," she said.
Recent Stories
Discover Healing and Renewed Well-Being through Psychotherapy
Life's challenges can sometimes feel overwhelming, leaving us with feelings of anxiety, depression, and uncertainty. That's where psychotherapy can make a profound difference. Our dedicated team of experienced therapists is here to guide you on a journey towards emotional and mental well-being.
Why Choose Psychotherapy?