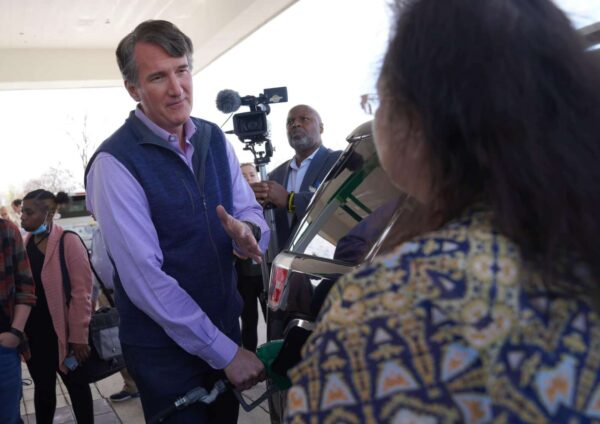 By Tyler Arnold
(The Center Square) – Virginia Gov. Glenn Youngkin ceremoniously signed a tax-cutting state budget Tuesday afternoon and vowed to keep working on his agenda, including his plan to provide gas tax relief.
"This will not overcome everything and … it's not everything that I wanted," Youngkin said. "So we're going to go back in January and get the rest. But it is a big step in the right direction."
The budget reduces taxes by about $4 billion by raising the standard deduction, providing a tax rebate and eliminating the state's portion of the grocery tax, the governor said. He said it will save the typical family about $1,100 in the first year. However, he noted the bill does not do enough because Virginians are still struggling with record inflation and gas prices.
"When inflation carries away big chunks of your hard-earned paychecks, it makes it harder and harder to live, work and raise a family in Virginia," Youngkin said. "…We heard from business owners who were unable to manage through an environment of increased regulations and taxes. We heard from families who faced bills that were rising faster than their incomes at the gas pump and at the grocery aisle."
Legislative Republicans and the governor sought to provide gas tax relief earlier in the year by reducing the tax by 5 cents until July 1, 2023. When most Democrats balked at the plan, they proposed a bill to temporarily halt the entire tax for three months and phase it back in over the next two months. This bill also failed, which led Youngkin to include the proposal in a budget amendment, which couldn't get through the Democratic-controlled Senate.
Before signing the bill, Youngkin said this would not be the last time people will hear about gas tax relief. He said that Virginians will think of Senate Democrats every time they fill up their gas tank and "deserve a better answer than no."
"We are shifting from high gear into extra high gear," the governor added.
The budget also includes a 5% pay raise for teachers and other state employees in the first year of the budget and another 5% in the second year. It provides about $3 billion in additional funding for K-12 education, more than one-third of which will go to school construction. The bill also provides funding for school choice programs, including new lab schools and full funding for the Education Improvement Scholarships Tax Credits Program.
Virginia's budget will also provide additional funding for law-enforcement, including raises, which will cost the state about $400 million. The budget also provides about $45 million to fund school resource officers.
Recent Stories
Potomac Local News first told you about Dumfries town officials working on a gun buyback program.