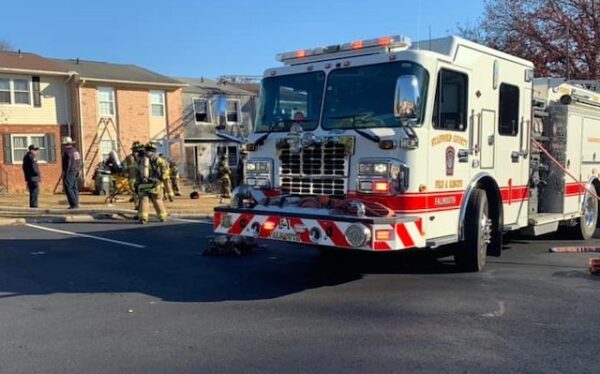 [Updated 7:30 p.m.] Two major incidents at opposite ends of Stafford County kept fire crews busy.
A fire broke out today at a middle-row townhouse on Coventry Court.
Rescue crews rushed to the scene of the blaze, reported about 2:30 p.m. The fire displaced two adults and three children.
A dog perished in the fire. Fire crews reported no other injuries, and fire crews did not find working smoke detectors in the home, said county fire and rescue spokeswoman Katie Brady.
The cause of the blaze remains under investigation.
The American Red Cross swooped in to help the displaced homeowners. The home is located in the Town and Country section of the county, near Fredericksburg, behind a Giant Food store.
About the same time today, multiple units, including some from neighboring Prince William County and Quantico Marine Corps Base, rushed to a three-acre brush fire scene at 66 White Pine Circle, near a U.S. Post Office on Route 1.
A fire engulfed a large section of woods behind one of the buildings at an apartment complex. At a second building, flames engulfed a smaller portion of the brush.
Additional fire crews went to Portugal Drive in the Aquia Harbour neighborhood for a small blaze that broke out directly behind the apartment complex on White Pine Circle.
Investigators are working to find the cause of the fires.