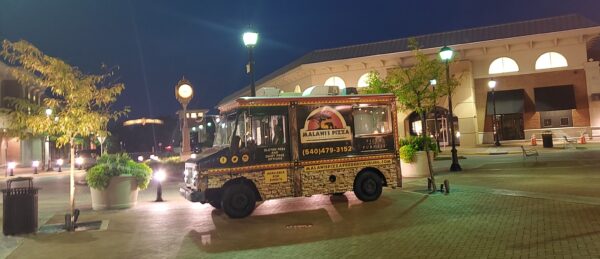 Malawi's Pizza is celebrating its fourth anniversary by unveiling its new food truck as part of a new mission to help feed the community.
That mission known as "Feed FXBG" seeks to engage with local companies in the Fredericksburg area to meet the hunger needs of the local community. Malawi's mission as "Pizza with a Purpose" has been the driving force for the company since its opening in Fredericksburg four years ago.
Malawi's Pizza charitable efforts are known as its "Journey to a Million Meals" program. That goal was to donate one meal to a child in Malawi, Africa, for every meal purchased in their restaurant.
The Utah-based pizzeria recently announced the success of that program, having donated their one-millionth meal last year.
"Feed FXBG" takes the concept from the Journey program and brings it to a local level. Malawi Fredericksburg's owners Patrick and Rebecca Church have also been active in the local community by supporting the Fredericksburg Regional Food Bank, an organization that brings meals to those in need in Fredericksburg, Stafford, Caroline, and other nearby counties.
The restaurant itself also serves as a drop-off location for non-perishable food items meant for donation. Malawi offers 10 percent off the total purchase of an order with that donation.
Like many other businesses, Malawi's struggled to stay afloat due to a lack of foot traffic at the Spotsylvania Town Center where they are located and worker and supply shortages during the Coronavirus pandemic.
"We are thrilled to make it through the difficulties presented by the pandemic," stated owner Patrick Church in a press release. "It truly was the local, loyal patrons that carried us through these difficult times."
Malawi's Pizza is located in Spotsylvania Town Center at 1 Towne Center Boulevard, Suite 2400.