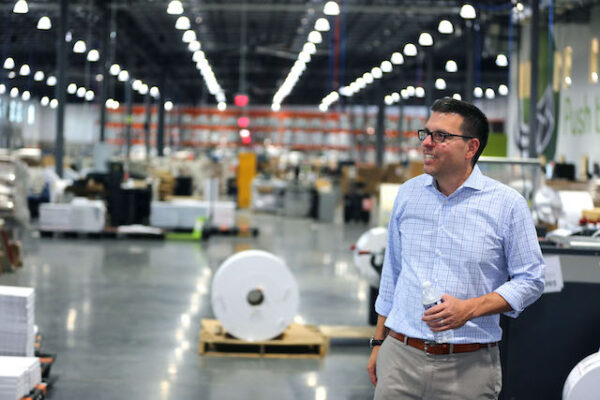 Prince William County taxpayers helped pave the way to the update grand opening of a new warehouse and corporate headquarters for mailing and printing business that does $20 million a year in sales.
Officials on Wednesday cut the ribbon on the new 120,000 square foot headquarters for Planet Direct, a direct-mailing and printing company that specializes in working with non-profit companies and political campaigns.
With 130 employees and growing, the firm outgrew its old nearby space occupied in 2017. Its corporate headquarters, at 7403 Gateway Court near Manassas, in Prince William County's Innovation Park, is double the size of its previous building.
"It's a growing business," said Planet Direct President Ryan Gutman, who founded the eight-year-old company.
It's growing so much, the company plans to add at least 100 new employees in the coming year. To get them there, as well as the trucks that make deliveries and pickups at the new warehouse, the county had to build a new street at the cost of $1.7 million.
Located off Discovery Boulevard, near the popular Farm Brew Live brewery, Planet Direct had planned to build a portion of what's now known as Gateway Court. The incoming business next door was going to build the second half of the street, however, it delayed closing on its property at Innovation Park.
The park is home to multiple massive data centers, biotech companies, a regional FBI headquarters, and the Science and Technology Campus of George Mason University.
Recognizing an investment both retaining jobs in the area and creating new ones,  the county decided to pick up the tab for the street construction. It did something similar years earlier when the county's transportation department built Thomasson Barn Road, creating a new direct route to Farm Brew Live.
The county promised to build Gateway Court in October 2020, three months after it sold the property on which the new Planet Direct corporate headquarters sits. Prince William County has owned much of the undeveloped land at Innovation since the late 1990s.
With services including offset printing, lettering, envelope printing, and stuffing, the company's advantage is offering a wide array of products for a diverse group of customers.
"There's plenty of mail out there, and our goal is to become one of the largest mailers in the Mid-Atlantic region," said Gutman.