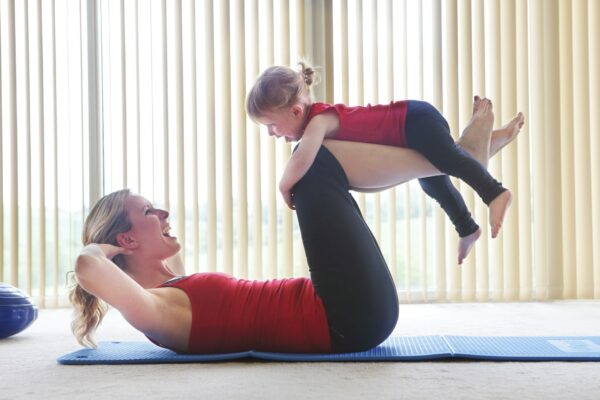 Heart disease and stroke cause one in three deaths among women each year – that's more than all cancers combined.
The American Heart Association says some small changes could pay big dividends when it comes to your heart health.
Diet and exercise are known to make a difference, that's why Sentara Northern Virginia Medical Center is hosting Sentara Go Red Virtual Luncheon with FIT4MOM. Shannon Link, a certified instructor and owner of FIT4MOM Lorton, has been helping new moms get active for years.
Now, Shannon is bringing that same knowledge and energy to this free community event.
"Traditionally, Sentara Northern Virginia Medical Center has raised money for the American Heart Association with its Red Dress Luncheon," explains Kathie Johnson, President, Sentara Northern Virginia Medical Center. "Since we were unable to host the popular event, we wanted to do something to raise awareness and get people moving – especially during the pandemic."
Sentara Northern Virginia Medical Center will donate $10 to the American Heart Association for every Prince William County resident who registers and joins us on Thursday, February 25 at noon.
The FREE, 45-minute Virtual Fitness Class is designed for everyone and will have something for all skill levels.
No need to be a 'mom' – everyone is welcome! We will cycle through intervals of cardio, strength, and core work, and will conclude with a peaceful stretch & meditation.*
Click here to to register today.
*If you are new to exercise, please consult with a physician before engaging in physical activity.
Sentara Northern Virginia Medical Center is a 183-bed, not-for-profit community hospital serving Prince William County and its surrounding communities.
Our medical center combines the resources of a major health system with the compassionate, personalized care of a community hospital.
SNVMC offers quiet, private rooms and high quality care focused on safety and patient satisfaction.
We offer a wide range of medical specialties, a highly qualified medical and clinical staff and state-of-the-art technology.
Our clinical services include advanced imaging, cancer services, diabetes management, emergency care, heart and vascular care, lab services, neurosurgery, primary care, orthopedics, urology, weight loss surgery, women's services and more.