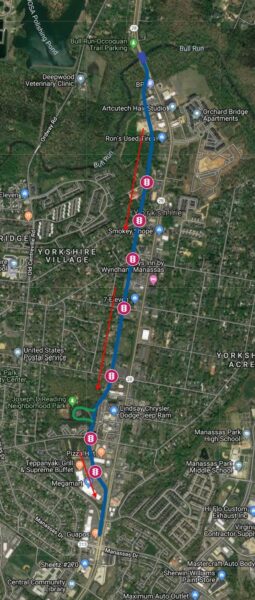 Editor's note: We periodically publish opinion posts (letters to the editor) on local issues of interest to our subscribers and readers. 
By Mark Scheufler
Prince William County resident
Capacity Improvements for Route 28 between Fairfax County and Manassas have been narrowed down to two general alternatives:
1. Extension of Godwin Dr. along the Flat Branch to Route 28
2. Widening Route 28 through Yorkshire from four to six lanes.
The problem is both alternatives are prohibitively expensive and do not provide a good return on investment (ROI) for Prince William County residents.
The four-mile Godwin Dr. Extension Alternative will have a significant impact on at least 70 residential properties and create permanent noise impacts for many more.
Most of the affected properties are below the Prince William County median home price, thus removing some of the affordable housing stock in the county.
In addition, the loss of properties will impact the tax revenue generated by the county.
Also, the proposed alignment will be built through an "Environmental Resource" area.
Building next to a riverbed will result in higher levels of stormwater runoff and impacts to adjacent parkland and Bull Run watershed. Finally, this alignment will induce more traffic into the Route 28 corridor that currently uses Sudley Rd (234 Business) to access I-66.
The other option under consideration is to expand Route 28 from four to six lanes.
This option will eliminate most of the businesses along Route 28.
This is similar to what was done along Route 1 in Triangle 10 years ago.
This will result in a loss of commercial tax revenue for the county that may never be recovered.
In addition, this route will have significant utility relocation costs.
A better alternative is to build a new three-lane Route 28 southbound alignment — 400 feet to the west of existing Route 28 from an expanded eight-lane Bull Run Bridge to Manassas Drive.
When done, Route 28 would have two northbound lanes and five southbound lanes.
With the Route 28 Fairfax County widening project coming online in late 2022, the most severe congestion in Prince William County along Route 28 will be in the southbound direction during the evening rush hour.
This improvement will create five lanes of southbound traffic, plus Old Centreville Road, to help dissipate traffic as it funnels down to Manassas Drive and Liberia Avenue.
Having a one-way roadway makes it easier to synchronize traffic lights between Compton Road and Manassas Drive.
The main benefit of this alignment is it adds the needed near term capacity improvements while also providing options for county planners, county residents, property owners, and developers to envision and revitalize the Route 28 corridor through the Yorkshire Small Area Plan.
The Route 28 corridor is an excellent place for upzoning the land with affordable higher-density mixed-use development and adding bus transit and bike/pedestrian infrastructure.
Growth is coming to Prince William County, planning the growth in activity centers such as the Route 28 corridor is needed for the county to prosper.
Without proper planning and vision, the development will continue to occur on the outer edges of the county near or in the rural area.
If Prince William County is going to fund this project through a bond referendum, it needs to benefit current and future Prince William County residents and businesses.