On September 12th the Prince William Chamber of Commerce hosted its Policy Committee Meeting where we heard and engaged in a conversation with senior Prince William County Staff on the topic of the County's Strategic Plan and more importantly, discussed the County's "Moonshot Goal".
The "Moonshot Goal" is to increase the percentage of commercial tax revenues to 35% of the County's existing tax receipts. It is the only quantifiable goal in the approved plan, and it is ambiguous. The approved plan did not specify whether the goal was limited to real property taxes or to all taxes paid by businesses. The business community's share of taxes is currently about 16% of all county real estate taxes, and roughly 24% of all general fund taxes collected.
In 2017 when this goal was first approved by the Board of County Supervisors, the Chamber's Board of Directors was opposed to it…and, after hearing from County Staff on the "ins and outs" of the proposal, reaffirms that position.
An economic development goal for reducing the tax burden on county residents is laudable but goals should be achievable, strategic and measureable. Rather than relying on real estate taxes at a time when businesses are moving substantial portions of their infrastructure to the internet, the county needs to carefully review its policies and procedures to be sure that the government is strategically targeting those things that are important to the community and consistent with its long term goals. That will mean in large part that the county will update outdated policies and procedures to adapt to the new economy and diversify County revenue streams. In addition to the 35% goal being unattainable, focusing on a specific number for property taxes, like the "Moonshot Goal" will not create a diversified tax base, and will simply add to the cost of consumer goods and services within the community.
The 35% is a measurement, not a strategic goal. We strongly reaffirm our position from 2017 and encourage the Board of County Supervisors to revisit this issue and replace the measurement with a set of achievable, sustainable and measurable objectives for economic growth that will facilitate continued success for the business community and our residents.
Sincerely,
Betty Dean
Chairman
Prince William Chamber of Commerce
Recent Stories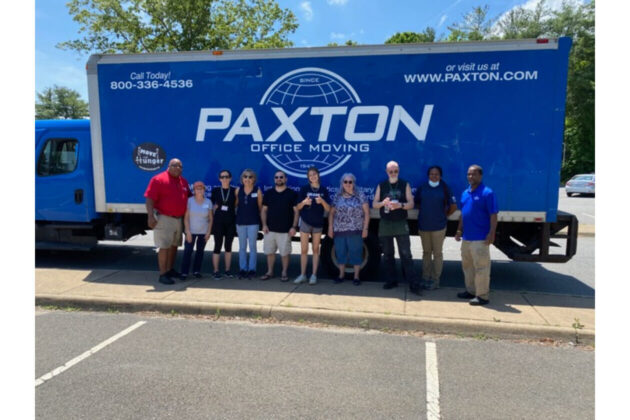 Every Sunday from May until November, the Dale City Farmer's Market offered to donate their leftover fresh produce to the North Virginia Food Rescue to help those struggling with hunger.
The Dale City Farmers Market has been serving its local community since 1987. It is one of the largest open-air markets in the area. Their first donation last May was over 3,300 lbs of produce. That single donation provided 2,825 meals to food insecure communities.
Since that time, they have completed 28 food donations totaling nearly 127,000 lbs taken to the food bank by Paxton Van Lines. This provided more than 105,800 fresh meals to those in need.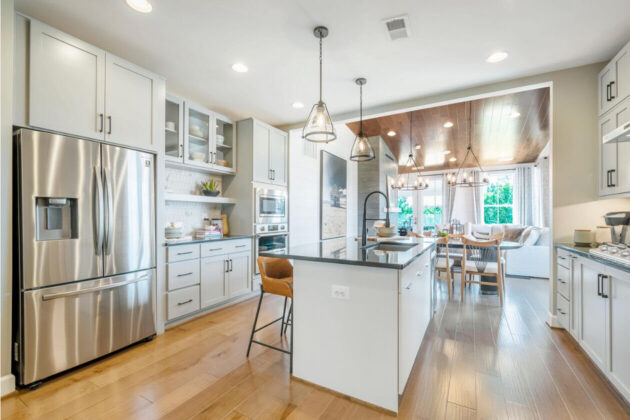 Miller & Smith announces Cascades at Embrey Mill, is now selling. The age qualified 55+ Active Adult community offers main level living with low- maintenance homes designed for homeowners to enjoy a carefree lifestyle in Stafford, Virginia, near Fredericksburg, Quantico and Washington, D.C. The villa style attached homes at Cascades at Embrey Mill are priced from the upper $400,000s. The Rainier plan is available with and without a walkout lower level delivering three to four bedrooms, two to three-and-a-half bathrooms and up to 2,800 square feet with a two-car front entry garage. The Rainier plan prioritizes space and flexibility via uninterrupted flow between rooms. Top wish list items such as a primary suite located on the main level, walk-in closets, and optional add-ons such as vaulted ceilings and zero entry primary showers attract prospective buyers. Other add-ons include a screened- in porch, patio and patio with screened-in porch. Buyers who need extra space can select a Rainier with a walkout lower-level plan. A community surrounded by a wealth of natural beauty, the Cascades at Embrey Mill offers residents 10 miles of trails and community gardens, pools, parks, a community café and multiple gathering spaces. An easy connection via I-95 to nearby national hotspots allows residents to live a universally fun and fulfilled life just minutes from home. Prospective buyers are encouraged to visit the newly decorated model home at 247 Smokebush Drive to see the Rainier model firsthand. Contact Debora Flora at 703-300-1333 for information.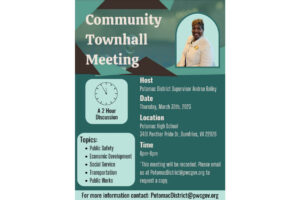 Potomac District community town hall-County officials and Supervisor Bailey will give important updates regarding the happenings in the district relative to transportation, social services, planning, and future projects.
Calling all serious runners, occasional joggers, and weekend walkers of all levels! Participate in the 31st Annual Van Metre 5K Run supporting Children's National Hospital–the event that goes a long way!
Date: Saturday, April 29, 2023
Time: 8:30AM
Location: Broadlands