Looking for the spookiest places in Fredericksburg? Halloween is just around the corner and what better time to see the creepiest places in the area? Fredericksburg Economic Development & Tourism recommends you check out these history-rich haunts.
1. The Rising Sun Tavern

Location 1304 Caroline St, Fredericksburg, VA 22401

Why? John Frazer, the tavern innkeeper, took ill and died in one of the upstairs bedrooms. Staff that works there will tell you that he has never left. It has been reported that Mr. Frazer enjoys unplugging lights, moving objects, tugging on dresses, and pulling pranks on the tavern guides to let everyone know that he is still around.

2. St. Georges Episcopal Church

Location 905 Princess Anne St, Fredericksburg, VA 22401

Why? A lady in white haunts the church. Her face covered in a veil, kneeling at the altar. She is said to have disappeared into the air once a choir lady called to her.

3. Kenmore Plantation

Location 1201 Washington Ave, Fredericksburg, VA 22401

Why? Colonel Fielding Lewis is said to have seen from time to time agonizing over money burdens. His ghost can be seen pouring over his documents. Also claims of doorknobs mysteriously turning themselves and footsteps can be heard as well.

4. The Chimneys

Location 623 Caroline St, Fredericksburg, VA 22401

Why? A few different ghosts have made their appearance or the presence known here. Objects broken, doors slammed shut, footsteps heard, empty chairs rocking. One night, a mother went to check on her young sleeping son. She enter his room and was surprised to see two young boys sleeping in his room. She didn't recognize the child, but thought someone must have come to spend the night without her knowing. The next morning she asked her son and he said he slept alone!

5. Sunken Road

Location 1013 Lafayette Blvd, Fredericksburg, VA 22401

Why? Here along the Sunken Road, the Union Army suffered one of its bloodiest defeats during the entire Civil War. There have been reports of people hearing gunfire, images of soldiers, and voices giving commands. Some claim to hear ghosts whispering in the cemetery.




Flickr Photo: Rob Shenk
Recent Stories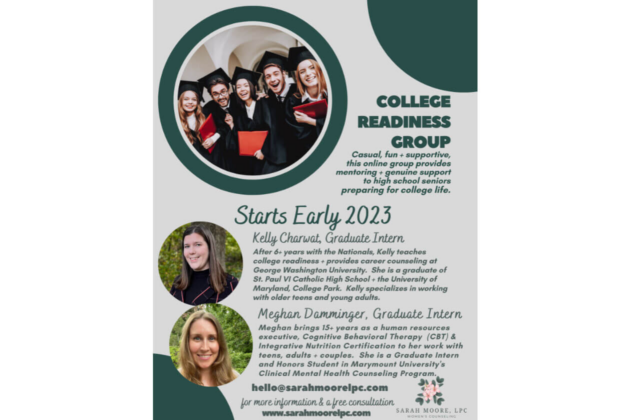 High School Senior Anxious about College Life? Our amazing graduate interns, Meghan Damminger and Kelly Charwat are starting an affordable College Readiness group in early 2023. Working out day and time. Please email [email protected] to set up a free consultation after the Thanksgiving holiday. And yes, Meghan and Kelly have a few openings for individual clients as well. Their rate is $45 per session. [www.sarahmoorelpc.com](http://www.sarahmoorelpc.com/?fbclid=IwAR3ZlfQnSLVRCc78HbTZutDYZErTctC_5pl- zt4eo_wjQo1gF6uHS–k32g).