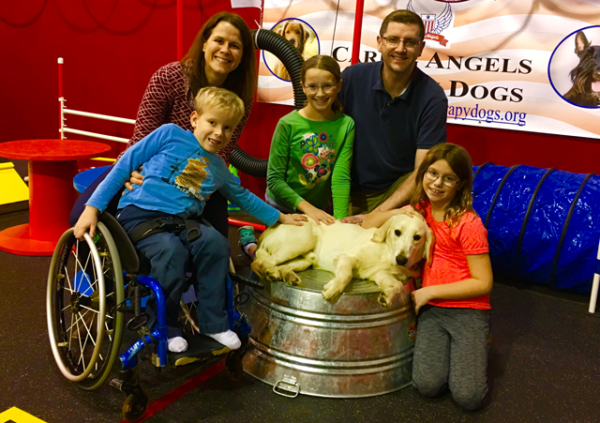 "My youngest daughter was deployed to Iraq, and when she came home, she was a different person."
Thanks to Caring Angels, "JJ" was rescued from a local animal shelter and received the training he needed to begin his new life as a therapeutic support dog.
Caring Angels is the nonprofit arm of "Sit Means Sit" of Northern Virginia, a woman-owned franchise in Manassas. We sat down with owner Sonny Madsen recently to find out more about her business and her nonprofit.
PL: Tell us about your involvement with Caring Angels
Sit Means Sit: Caring Angel therapy dogs have all come through the Sit Means Sit training program. We have dogs that have helped with the victims of human trafficking, juvenile detention centers, fire departments, reading programs for children, nursing homes, FBI, funerals, teaching dog safety, assisting with college students going through test anxiety, returning soldiers, children with special needs and so much more.
PL: Why did you decide to start this endeavor?
Sit Means Sit: Before starting my business, I was a public speaker and sales manager. My youngest daughter was deployed to Iraq, and when she came home, she was a different person.
I hardly recognized her and had trouble connecting with her. One day on a trip to Arlington Cemetery we saw a soldier with a service dog – a beautiful white golden retriever. My daughter's eyes lit up for the first time since coming home. I decided then and there to get her a service dog.
Turns out that is a lot easier said than done. I learned support dogs are extremely expensive and the whole process can take years. My daughter didn't have years to wait – I knew she needed a support dog right now. So I decided I would find and train one for her myself.
PL: What attracted you to the Sit Means Sit (SMS) program over other options?
SMS: I did a lot of research including interviewing law enforcement for their training suggestions (since they train so many great dogs). The Las Vegas Sheriff's Department referred me to the founder of Sit Means Sit, Fred Hassen.
The first time I met Fred he gave me a quarter and told me to throw it in the middle of his 5,000 square foot training room. He then explained that he would be able to get a small black labrador retriever to sit on that quarter in four attempts without moving himself.
Intrigued, I threw the quarter toward the middle of the room. Amazingly he had that dog happily sitting on the quarter in just two attempts without ever having to walk over to where I threw the quarter. I was impressed. I asked him how he did it and that was the first time he showed me the e-collar.
PL: What is unique about the SMS style of training?
SMS: We are e-collar trainers. The e-collar is a neutral training tool to teach focus, obedience, and trust. If you do it the right way, you have a happy dog who loves you more than treats or toys or anything else.
We have been able to work with puppies, anxious dogs abused and neglected dogs, dogs that are deaf, aggressive dogs and dogs that just plain have bad manners.
PL: What's been the biggest challenge you've faced so far, and how did you overcome it?
SMS: SMS: Overcoming the negative stigma of e-collar training. I'm the first one to agree that the old-fashioned way of e-collar training was harsh and punitive. That is definitely not the way we use a collar. Our e-collars do not cause pain – they function as an adjustable 'tap' which is used as a cue to get the dog's attention. The 'tap' is similar to muscle therapy devices found in the medical field for humans. When we bring on a new client, we always have them try out the device on their hand so they can feel the tap for themselves. With 64 sensitivity settings, the collars are fully adjustable to the smallest and the largest of breeds.
PL: What's next – where do you dream of taking your business?
SMS: Sit Means Sit is the largest dog training program in the country, and our Northern Virginia franchise is their fastest growing location in the U.S. We want to keep that momentum and keep educating our clients.
Of course, my heart lies with the Caring Angels program and with the service dogs that we train – it's the whole reason I got into the dog training business, to begin with, and I never want to forget that. Therapy dogs make a difference in ways we may never fully understand – I can only describe it as God's grace. Right now, given our limited resources, we can only place a few dogs a year through the program. My goal is to one day build a facility where we can continue to train, house and donate ten service dogs a year.
The facts:
Sit Means Sit 9823 Godwin Dr Manassas, Va
703-342-6164
Website: sitmeanssit.com/dog-training-mu/fairfax-dog-training/
Caring Angels Therapy Dogs: https://www.facebook.com/caringangelstherapydogs
*This post is written by Rod Loges and Jenn Mathis, of One Degree Capital in Occoquan, in collaboration with Potomac Local.