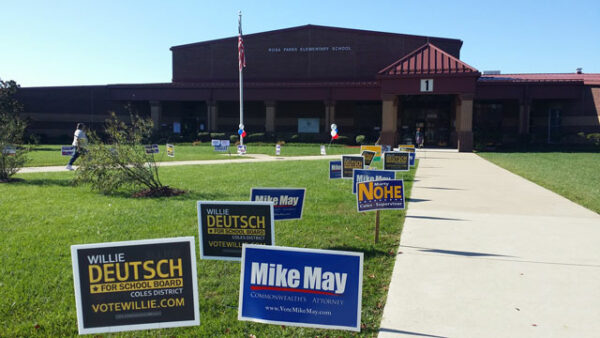 Anderson campaign: Signs improperly label her as a TEA Party member 
Voters in Prince William C:ounty went back to using paper voting machines today.
General Registrar Michelle White called voter reception of the new machines "lukewarm."
"When I've been out with the new equipment I've heard people come up to me and ask "why are we moving backward instead of forward?" said White.
Paper ballots this year replaced electronic touch-screen voting machines that had been used in Prince William County since 2000. Problems with the machines led to long lines in 2012, and Virginia lawmakers passed a bill that required the return to paper ballots.
"I can understand why the General Assembly made the decision because in the event a paper ballot voting machine goes down you can keep allowing people to vote while creating a paper trail," added White, who is marking her first General Election Day in Prince William County.
Turnout at precincts across the county has been light as voters decide who send to Richmond for the House of Delegates and Senate, and choose candidates for local offices such as Board of Supervisors, School Board, and Soil and Water Board.
Democrats hope to keep the 29th Senate District being vacated by retiring Charles Colgan, who has held the seat since 1976 and has represented voters from Manassas to Woodbridge. Democrat Jeremy McPike is running against Republican Manassas Mayor Hal Parrish for the seat.
The race between incumbent Paul Ebert and Mike May for Prince William County Commonwealth Attorney is one to watch. Ebert has held the position since 1968 while May chose to step down from his role as Occoquan District Supervisor on the Prince William County Board of Supervisors to seek the position.
Ruth Anderson is running against Earnie Porta to replace May on the Board fo Supervisors. This morning, Democrats erected signs charging Anderson — wife of Delegate Richard Anderson, who has served Prince Willaim County residents since he was first elected in 2009 — stating she is a member of the TEA Party.
Anderson's campaign denies she has any involvement with the TEA Party. So far, the signs have been spotted at Lake Ridge Middle and Rockledge Elementary schools in Lake Ridge, and the First Baptist Church of Woodbridge.
"I don't have any empirical evidence that she is a member of the TEA Party," said Prince Willaim County Democratic Committee Chairman Harry Wiggins. "The signs are in response to the vile campaign run by Anderson during the election."
Wiggins said a move last week by Republicans to discredit Anderson's Democratic challenger by digging up a lawsuit dating back 15 years was uncalled for.
Polls opened at 6 a.m. and will close tonight at 7 o'clock. Poll workers ran into problems early this morning at some locations in Prince William when they were unable to log onto the internet with their poll books — laptop computers poll workers use to check in voters.
The issue was fixed and did not severely delay the voting process, added White.