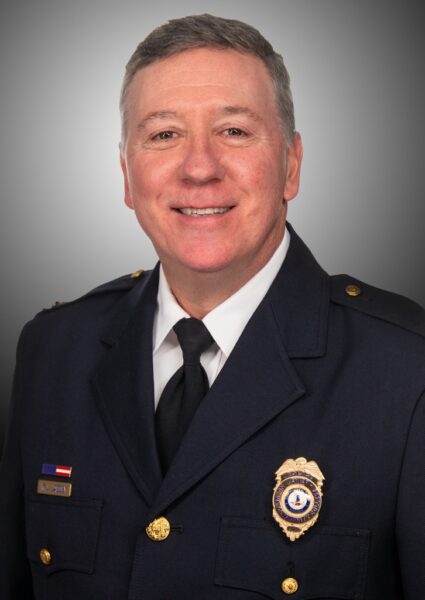 Northern Virginia Community College (NOVA) is excited to announce the appointment of William "Jake" Jacoby as the new chief of police.
Jacoby has served as the college's assistant chief of police for ten years. Following a nationwide search, Jacoby was named to succeed Chief Dan Dusseau, who retired in May 2022.
Jacoby has nearly four decades of police experience in Northern Virginia. He is familiar with the region's police forces, especially in the leading four jurisdictions where NOVA's campuses are located.
"The safety of our college community is of critical importance at NOVA," said John Ferrari, (USA, ret.) NOVA's new vice president of finance and administration. "With his extensive police background, Jake will ensure that the public safety of the College remains the top priority and that our students, faculty and staff are in the best of hands. Our award-winning police force is proud to continue to serve."
Before coming to NOVA in 2012, Jacoby retired from the Fairfax County Police Department. While in Fairfax, he served in various senior operational roles. He also served as an assistant station commander, supervising approximately 125 officers and numerous civilians.
Jacoby's selection followed a rigorous national search with over 50 candidates applying from major urban and rural areas, other colleges and universities, the FBI, and other federal law enforcement agencies.
"NOVA Police is one of the country's premier college police departments. I intend to enhance the culture of safety established by Dan Dusseau," said Jacoby. "We will continue to emphasize the professional development and approachability of our police force, and our community outreach efforts to keep our operations transparent and to empower NOVA community members with the information they need to keep them safe, both on and off campus."
Jacoby likes to travel, play golf, and catch up with NOVA students on the campuses in his spare time.
Recent Stories
On February 3, 2023, the Stafford County Health Department confirmed that a gray and white colored, tabby cat collected on Jan 30, 2023 from the 400 block of Widewater Road in Stafford County was positive for rabies.
Tim Hughes, an environmental specialist with the Prince William County Public Works Department, recently accepted a Project of the Year Award from the American Public Works Association Mid-Atlantic Chapter.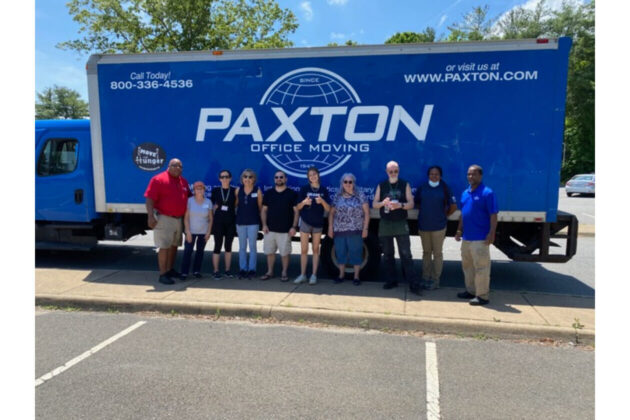 Every Sunday from May until November, the Dale City Farmer's Market offered to donate their leftover fresh produce to the North Virginia Food Rescue to help those struggling with hunger.
The Dale City Farmers Market has been serving its local community since 1987. It is one of the largest open-air markets in the area. Their first donation last May was over 3,300 lbs of produce. That single donation provided 2,825 meals to food insecure communities.
Since that time, they have completed 28 food donations totaling nearly 127,000 lbs taken to the food bank by Paxton Van Lines. This provided more than 105,800 fresh meals to those in need.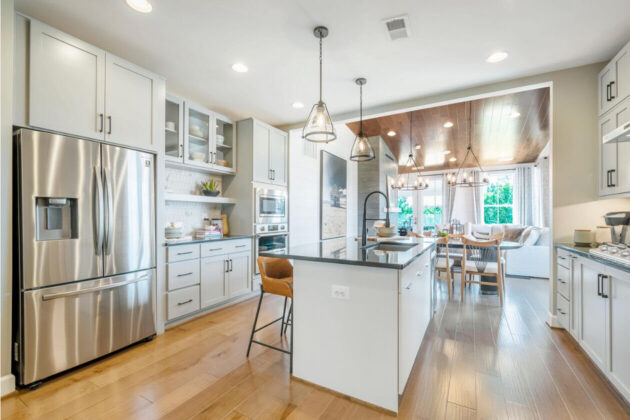 Miller & Smith announces Cascades at Embrey Mill, is now selling. The age qualified 55+ Active Adult community offers main level living with low- maintenance homes designed for homeowners to enjoy a carefree lifestyle in Stafford, Virginia, near Fredericksburg, Quantico and Washington, D.C. The villa style attached homes at Cascades at Embrey Mill are priced from the upper $400,000s. The Rainier plan is available with and without a walkout lower level delivering three to four bedrooms, two to three-and-a-half bathrooms and up to 2,800 square feet with a two-car front entry garage. The Rainier plan prioritizes space and flexibility via uninterrupted flow between rooms. Top wish list items such as a primary suite located on the main level, walk-in closets, and optional add-ons such as vaulted ceilings and zero entry primary showers attract prospective buyers. Other add-ons include a screened- in porch, patio and patio with screened-in porch. Buyers who need extra space can select a Rainier with a walkout lower-level plan. A community surrounded by a wealth of natural beauty, the Cascades at Embrey Mill offers residents 10 miles of trails and community gardens, pools, parks, a community café and multiple gathering spaces. An easy connection via I-95 to nearby national hotspots allows residents to live a universally fun and fulfilled life just minutes from home. Prospective buyers are encouraged to visit the newly decorated model home at 247 Smokebush Drive to see the Rainier model firsthand. Contact Debora Flora at 703-300-1333 for information.