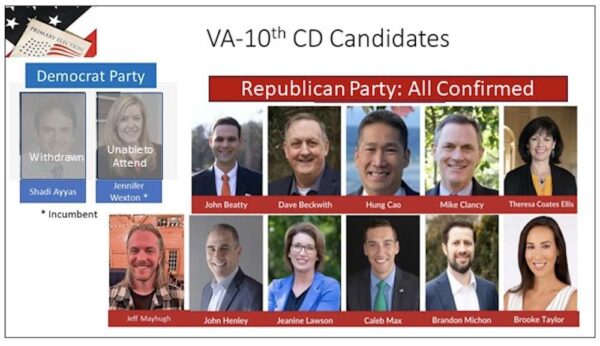 One of the final candidate forums of the Primary Election for Virginia's 10th Congressional District will occur on Tuesday near Manassas.
The American Life & Liberty (ALL PAC) will host a forum at Unity Braxton Middle School on Tuesday, May 17, from 5:30 to 8:45 p.m.
Eleven Republicans seeking the nomination for Virginia's 10th Congressional District will attend the forum. Each will have time to introduce themselves and take voter questions submitted by audience members.
On Saturday, May 21, 2022, Republicans will choose which 11 candidates will challenge Rep. Jennifer Wexton (D) in the November 8 General Election. (Here's how the Firehouse Primary will work)
The PAC asked Wexton, the only Democrat seeking the seat, to attend. However, she declined. It's unusual for candidates from both parties to participate in forums before a Primary Election.
Wexton has held the seat since 2018, after unseating Republican Barbara Comstock.
The newly redrawn 10th Congressional District (click here to see the new map) includes Western Prince William County, Manassas, Manassas Park, Loudoun, Fauquier, and Rappahannock counties.
PLN Publisher Uriah Kiser will moderate the forum.
Unity Braxton Middle School (formerly Stonewall Middle School) sits at 10100 Lomond Drive near Manassas.