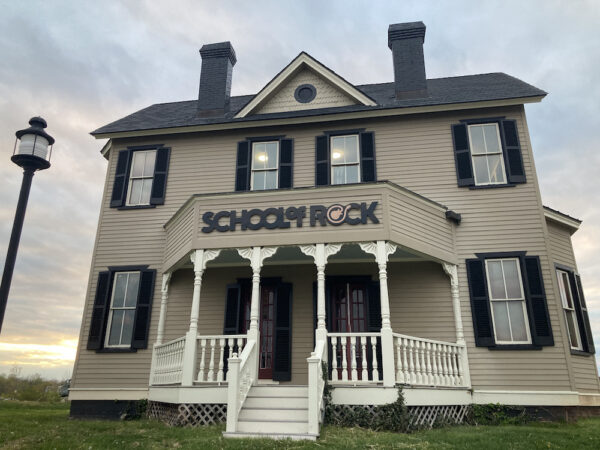 From afar, you might think the only thing happening inside this 120-year-old house is a quilting bee or a Harry Potter cosplaying game.

But if you got closer to the door at 15101 Washington Street in Haymarket, they would hear the sounds of blues riffs, rhythmic drumming, and powerful vocals, all of which make up the sounds of rock and roll. Once they passed through the doorway, you knew that you'd entered the School of Rock.

The School of Rock opened in Haymarket in July 2017 as part of a franchise first founded in Philadelphia in 1998. Since its founding, the school boasts over 350 locations worldwide with over 40,000 students.

According to manager Mary Hitchcock, the school currently has 12 teachers and is growing and seeking to hire more.

The school goes beyond the typical one-on-one lessons between student and teacher with the instrument of choice. They also teach from their eponymously named School of Rock method. This method not only includes one-on-one instruction but group instruction, stage performance, learning music theory methods, and learning one song at a time.

This method struggled under the Coronavirus pandemic and, like many other businesses, had to adapt to the situation at hand.

"Like it was for everyone else, the pandemic was a tough transition," says Hitchcock. " We did switch to online lessons and continued our group rehearsals online. We explored many new ways to approach teaching and convey concepts that we now use in person!"

With the pandemic winding down, the school has been able to return not just to in-person teaching but to live performances by its students. According to Hitchcock, the school's house band has four shows in May. The school is offering summer instruction not just in instrument instruction but also in songwriting and recording.

"Currently, we are offering many summer camps which are filling up quickly, one of which is a songwriting camp and recording camp, " says Hitchcock. "Many of our teachers have a music technology background and have taught production and mixing."

School of Rock is currently preparing its performance groups for two shows in May, focusing on popular rock groups The Beatles and AC/DC and hair metal bands like Motley Crue, Poison, and others.

School of Rock will perform at 90 Grados located at 8509 Rixlew Lane in Manassas at 11 a.m. on Saturday, May 14, and then at the Craftworx Taproom located at 5615 Wellington Drive in Gainesville at 11 a.m. on Saturday, May 21.