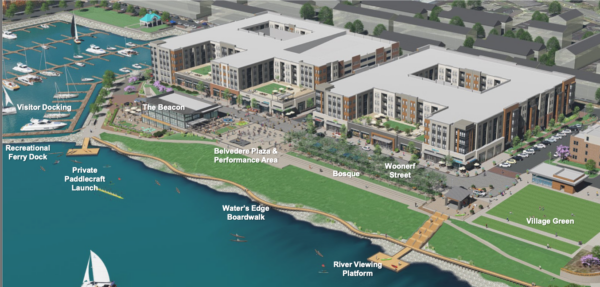 The Caruthers Companies and its attorneys will have a Zoom meeting to discuss its plans for redevelopment at Belmont Bay in Woodbridge.
The plan to transform the quiet harborside neighborhood at the Potomac and Occoquan rivers into a mixed-use district has met with outcry from residents. According to company spokesman Jay Sotos, the firm submitted revised plans to the Prince William County Government for the proposed redevelopment.
The company will present its plans at the next Woodbridge Potomac Communities Civic Association meeting on Thursday, May 19. The  Zoom meeting is open to the public, and you can join the meeting by clicking this link.
Sotos declined to comment on the details of the changes before the meeting on Thursday. "We are not at liberty to get into specifics before the 19th, but the meeting will lay out all the details," Sotos said.
The "reimagined" Belmont Bay neighborhood marks the latest development in the storied mixed-use district that, for the past 20 years, has failed to achieve its grand vision.
Last year. The Caruthers Companies, the Belmont Bay developer, filed an application with the Prince William County Government to rezone 170 acres of land in the secluded neighborhood of townhomes and condos. The developer hopes to build what it calls the $550 million final phase of development on the land Caruthers acquired in 1960.
At the center of the project is the Beacon building, a newly-built community center to replace the existing harbor master budling at the development's marina on the Occoquan River. A restaurant or food hall would be located inside the building, and an exterior patio would provide a place for both residents and the public to gather for open-air, waterfront views.
A new boardwalk would extend nearly 1,000 feet from the patio of the Beacon building to the George Mason University Science Center for river studies, which opened in 2018. Also, a new tree-lined urban plaza, performance space, and a new green would span the length of Harbor Side Street, between Beacon and the science center.
The size of the marina would stay the same despite the loss of the harbormaster building. The developer also proposes "less intensive" uses for the property than originally proposed under the old town center concept, swapping some 1.4 million square feet of planned commercial space and 505 hotel rooms Caruthers had hoped to build with nearly 1,000 new homes.
0
Comments