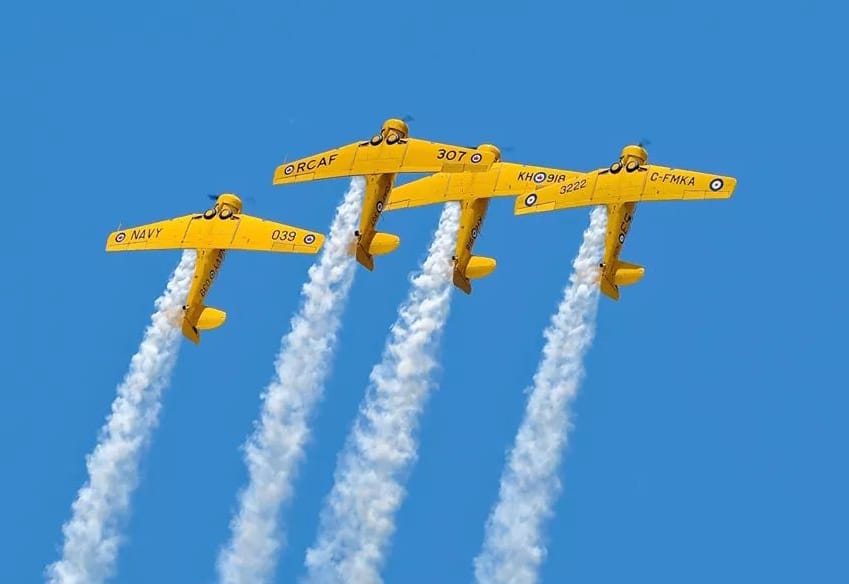 Stunt pilots won't be coming back to Manassas this year.
Manassas Regional Airport Senior Operations Manager Jolene Berry said the annual air show is canceled again this year due to coronavirus concerns. The show, which brought tens of thousands of spectators to the airport, was last held in 2019.
On Saturday, May 5, 2018, the show ran from 10 a.m to 4 p.m. and featured bi-planes, formation fliers, and the world's only privately owned Sea Harrier Jet that stole the show when the plane took a bow for the crowded pack on the tarmac.
Berry said organizers were uncertain what coronavirus restrictions would be in place this spring, which led to organizers not planning for a show. In years past, the air show has been a staple at the municipal airport, the largest of its kind in Virginia.
However, the annual Manassas Runway 10K Run will return to the airport Sunday, April 24. During the event, the airport closes one runway for the runners to use. Meanwhile, another runway is kept open as planes land and takeoff.
The race starts on the taxiway near the main terminal, and runners enjoy the scenic views of the modern and vintage aircraft on display. There's also a 5K and a 1-mile race as part of this event on the same day.
The Bull Run Rotary organizes the event each year. Proceeds benefit the Manassas City Police Association, the Civil Air Patrol Prince William Composite Squadron, and Compassion Airlift, providing free air transportation for the hospital patients who otherwise couldn't afford a lift.
Visit the event website for more information and for how to register. The Manassas Regional Airport sits at 10600 Harry J. Parrish Boulevard.