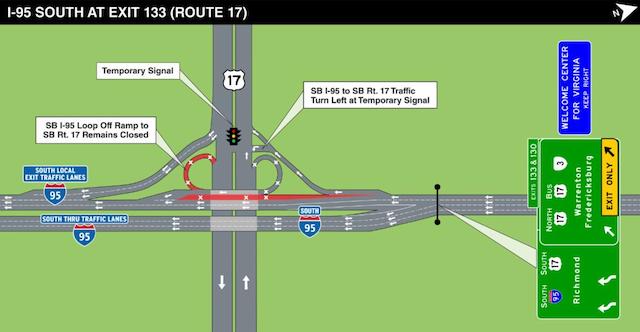 A new traffic pattern on Route 17 northbound to enter southbound Interstate 95 in Stafford County will go into effect later this week as construction advances on the Interstate 95 Southbound Rappahannock River Crossing project.
Crews will open the Route 17 northbound entrance ramp to I-95 southbound at exit 133 early Thursday, Jan. 20.
Once the loop ramp opens, workers will remove the left-turn lane to enter I-95 southbound from Route 17 northbound. Overhead signs will be removed, and traffic signal timing will be adjusted to accommodate the new traffic pattern.
Here are the details in a press release from the Virginia Department of Transportation:
Starting at 7 p.m. tomorrow, Jan. 19, workers will have alternating single lane closures on Route 17 northbound and southbound near the I-95 interchange to complete various construction activities to open the loop ramp.

Drivers should expect the new traffic pattern to go into effect before the morning rush hour on Thursday.

The temporary traffic signals on Route 17 at I-95 will remain in place. The signals will continue to direct southbound traffic exiting the interstate to Route 17 northbound towards Warrenton or Route 17 southbound towards Falmouth.

In addition to opening the loop ramp, crews will open a second southbound lane near the exit 133 (Route 17) interchange.

When this occurs, the local travel lanes near this interchange will be expanded from a single lane to two travel lanes spanning Route 17. All local traffic will enter into three travel lanes before the bridge over the Rappahannock River to the city of Fredericksburg.

The temporary traffic configurations to enter or exit southbound I-95 at exit 133 was needed as crews phase construction with this project and the 95 Express Lanes Fredericksburg Extension project.

As part of the project, the Route 17 southbound on-ramp to I-95 southbound has been widened to two lanes. Weather permitting, the dual-lane entrance ramp to reduce Route 17 congestion near the interchange will open in its final traffic configuration in Feb. 2022.

View a map of work zone after two lanes open on the I-95 southbound entrance ramp

The Virginia Department of Transportation (VDOT) and the project contractor, Wagman, Inc., continue to ask drivers for their patience with additional lanes remaining closed near the exit 130 (Route 3) interchange in Fredericksburg.

For motorists approaching the Route 3 interchange in the local lanes, three travel lanes remain reduced to a single lane after the Cowan Boulevard overpass, at mile marker 131, until south of the exit 130 interchange. This temporary traffic pattern will be in place for an estimated 3-4 weeks, at which time a second lane under the Route 3 overpass will open.

While construction is nearly complete, the project is not operating at its intended, maximum capacity yet with the temporary work zone conditions at both interchanges. Certain air and pavement temperatures are required to complete final construction activities. Winter weather storms and below-freezing temperatures have slightly delayed crews from completing the necessary work to open all lanes.

All lanes south of the exit 130 interchange are anticipated to open late winter 2022, weather permitting, along with project completion.