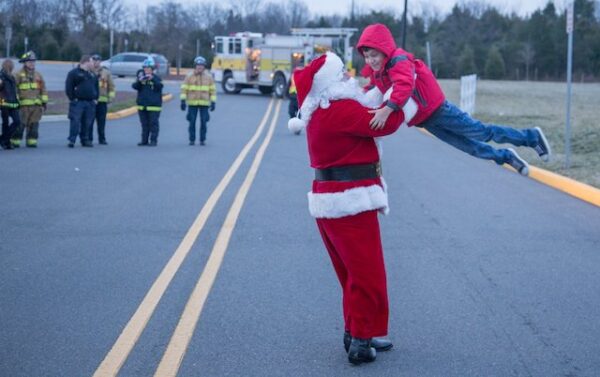 More than 50 children will each pair with a police officer and set off to shop for Christmas gifts.
Santa Cops will return to Woodbridge at 7 a.m. Saturday, December 4, as about 85 officers from police departments in Prince William County, Dumfries, deputies from the county's Sheriff's Office, and Virginia State Police troopers meet at Walmart on Worth Avenue next to Potomac Mills mall to spread holiday cheer.
Once paired with a cop, each child gets $175 to shop for Christmas gifts for themselves, family members, and friends. Many of them underprivileged, teachers from the county's public schools choose to select the children for participation in the program.
"You would be surprised at what they buy," said Roselee Bielec, a volunteer from the Fraternal Order of Police Battlefield Lodge 43 near Manassas, a coordinator of the event for 30 years. "It's not just toys and video games."
Many children put bedsheets and clothes into the shopping cart. As it is the only time the children can shop, many also purchase gifts for parents, said Bielec.
At the end of the shopping trip, children will ride with officers in police cars, lights and sirens activated, to the nearby Outback Steakhouse for a pancake breakfast donated by the restaurant.
Next week on Saturday, December 11, police officers from Manassas and Manassas Park cities and FBI members will join the fun when Santa Cops takes a new group of about 50 children shopping at a Walmart at Manassas Mall. Each year, the charity holds Santa Cops events on the east and west sides of Prince William County to better serve children's needs and help increase the participation of police officers who volunteer their time to help children.
Between both events, Santa Cops helps more than 100 children in the community. Each year, generous donors make the Santa Cops event possible. Donors may choose to give during the event at either Walmart store or mail a check to the Battlefield Charitible Foundation, Inc., PO Box 195, Woodbridge, Va., 22194.
"This a time of year when we can block out all of the negativity in the world, take a step back, and look at the smile on a child's face," said Bielec. "It's a great, worthwhile event."