Albert Wade Rockwell of Woodbridge, VA passed in the early morning hours on October 15, 2021, at the age of 79. He was known by most as Rocky, by family as Sonny and throughout his life was always Our Lad. Rocky passed after a short battle with cancer and pneumonia.
Rocky was born in Girardville, PA on November 13, 1941. He enlisted in the Army and served during the Korean War. After his time in the Army, Rocky worked for the Federal Government and retired after 40 years of service. Rocky went on to spend many of his days golfing, his retirement passion, and volunteered as a rules official for the PGA of America for over 20 years.
Rocky is survived by his loving wife Donna Kelly Rockwell, son Todd Rockwell and his husband Ken Ware, son Mark Rockwell and his wife Diane Kerby and grandson Brian Rockwell, and special daughter Dawn Bolyard and granddaughter Eiley Quinn. He is also survived by his sister Diane Seymour (children DeAnn, Patti, and Olivia), sister Betty Ann Kehoe and her spouse George Kehoe (children Tena, Michael, and George). His brother's daughter Tracey Shook. His sister-in-law Sue Stanton (children Cathy and Mark). Brother and Sister-in-law Ron and Sue Kelly (children Ronnie, Misty, Scott, Amber, and Chad). Rocky was preceded in death by his father Albert Luther Rockwell, his mother Helen Rose Rockwell, and his brother Joseph Rockwell and brother-in-law Mark Stanton.
Visitation will occur on Tuesday, October 26, 2021, from 10 am –  12 pm with service from 12 pm – 1 pm at Mountcastle Turch Funeral Home in Dale City, VA. Interment will be at 2 pm at National Memorial Park in Falls Church, VA. In lieu of flowers, the family requests donations be made to St. Jude Children's Research Hospital or to an organization of your choosing.
Recent Stories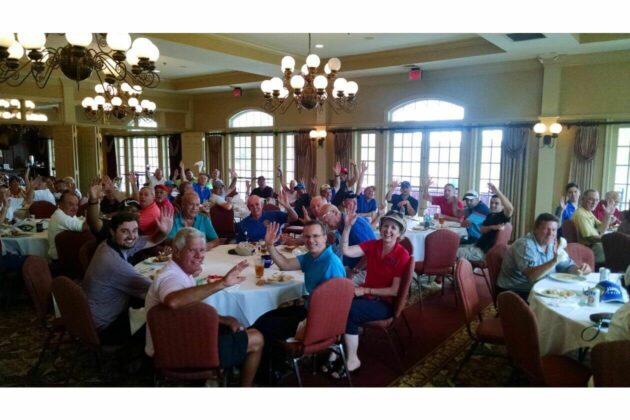 The Woodbridge Rotary Club is holding
its 19th Annual Devaney-O'Hop Charity Golf Tournament at Old Hickory
Golf Course on June 16, 2023.
Registration begins at 7:30 AM with a shotgun start at 8:30 AM. This Captain's Choice format event is to
raise funds for the various charities, both local and global, that the club
annually supports. Locally, Woodbridge
Rotary supports ACTS, ARC of Greater Prince William and others. On a global scale they support Rotary
International's fight to end polio and disaster relief for ShelterBox (ShelterBox USA – Disaster relief NGO
provides emergency shelter).
The tournament was created to honor
two past club presidents. Both Joe Devaney and Bill O'Hop had among other things, 2
things in common. They were each other's best friends and they both loved
golf! According to the tournament chair, Mark Worrilow, both were
longtime Rotarians and pillars of the community and club. Mark stated that he is looking for golfers,
sponsors and donations of door prizes to be presented at the banquet following
the tournament.
If interested
please contact Mark Worrilow ([email protected]) or us the following link to sign up: https://Devaney-Ohop-19th.eventbrite.com.