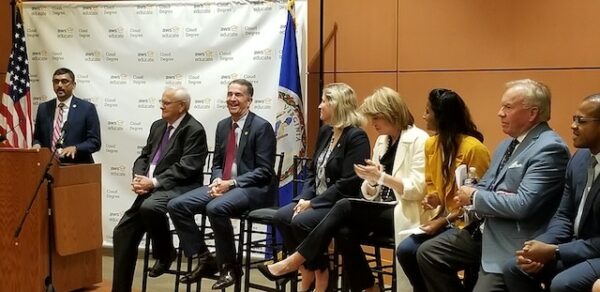 It's called AWS Educate, and it's billed as the future of learning the ins and outs of cloud computing in Virginia.
This collaboration between Amazon Web Services (AWS) and the state's K-12 school divisions, the Virginia Community College System (VCCS), and multiple four-year universities is aimed to create opportunities and build pathways to high-skilled and high-wage cloud computing careers for students in Virginia.
Northam joined multiple state officials, including Education Secretary Atif Qarni, who taught Civics at Beville Middle School in Dale City before Northam plucked him to head education efforts for the state shortly after he was elected in 2017.
The announcement was made inside the Workforce Building at the Northern Virginia Community College Woodbridge Campus.
"The first step is to identify what the jobs of the 21st century are," said Northam. "It's best we know they're in areas like cloud computing, cybersecurity, unmanned aerial systems, biotechnology, artificial intelligence, and data collection and analysis."
Education for cloud computing isn't new and is available in many online colleges. However, Northern Virginia Community College (NVCC) and George Mason University (GMU) are two of the first higher education institutions in the country to offer cloud computing degrees.
The programs are seeking to expand into the rest of Virginia's community colleges and four-year institutions, as well as its high schools, which will give their students the opportunity to receive college credit in cloud computing through dual enrollment.
It's unclear how many students are expected to enroll in the program.
"The growing demand for these skills is clear," said Chief Workforce Development Advisor Megan Healy. "Since September 2016, job postings requiring these skills in Virginia have increased from approximately 5,000 per month to 20,000 per month."
Among the long list of schools and universities are:
K-12
Fairfax County Public Schools
Loudoun County Public Schools
Alexandria City Public Schools
Arlington Public Schools
Community Colleges
Northern Virginia Community College
J. Sargeant Reynolds Community College
John Tyler Community College
Thomas Nelson Community College
Blue Ridge Community College
Patrick Henry Community College
Dabney S. Lancaster Community College
Tidewater Community College
New River Community College
Lord Fairfax Community College
Universities
George Mason University
Virginia Polytechnic Institute and State University
Virginia Commonwealth University
Old Dominion University
Hampton University
Virginia State University