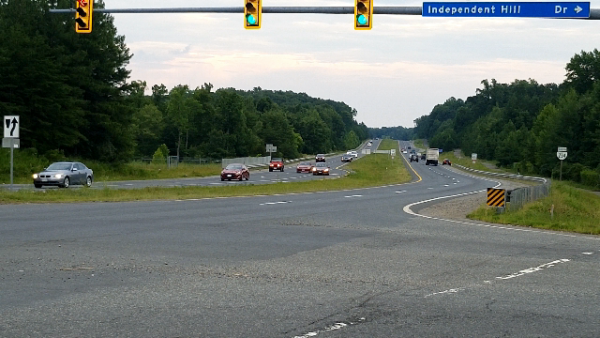 WOODBRIDGE — The desire for a Bi-County Parkway, while not widespread in Prince William, is alive and well in neighboring Loudoun County.
Loudoun leaders on June 20 approved its 2019 compressive plan, which identifies Northstar Boulevard as a new corridor that supports travel between area jurisdictions.
If you were driving south on Northstar Boulevard in Loudoun County and across the county line into Prince William, it street becomes Sanders Lane.
"We see [Sanders Lane] as a nice country road, but they see it as a truck route," said Prince William County Gainesville District Supervisor Peter Candland.
Candland and other members of the Board of Supervisors in 2013 fought state officials that identified Route 234, from Dumfries to Interstate 66, and north on Sanders Lane and Northstar Boulevard as a "corridor of statewide significance."
State officials want a road — a Bi-County Parkway — that can be used to easily transport air cargo from Dulles Airport ('Virginia's most significant port) to Interstate 95. That would mean converting an existing stretch of Route 234 in Prince William to interstate highway standards, complete with on and off-ramps and removing all signal lights, to most efficiently move air freight.
"That's one of the reasons we fought so hard against this," said Candland.
Prince William leaders removed a Bi-County Parkway from the county's comprehensive plan in 2016. But the future roadway remains on state plans.
Candland asked Prince William County Executive Christopher Martino to monitor neighboring counties for changes to their comprehensive development plans. He ordered him to keep an eye out for anything that may not mesh with their policy.
"I know 'we've been in conflict in Loudoun. Good catch," Prince William County Brentsville District Supervisor said to Candland.
Prince Wiliam County Coles District Supervisor Marty Nohe, and Northern Virginia Transportation Authority Chairman says the NVTA is regularly updated when counties make changes to the transportation sections of their comprehensive plans. He urged Martino to use the NVTA as a resource.
Trucks already use the four-lane Dumfries Road between I-95 and I-66 as a bypass. Drivers favor this route over Prince William Parkway, which is littered with traffic and lights and heavily used by commuters.
"The truck traffic on 234 is getting horrible," said Potomac District Supervisor Maureen Caddigan, who joined her colleagues in opposing the Bi-County Parkway.