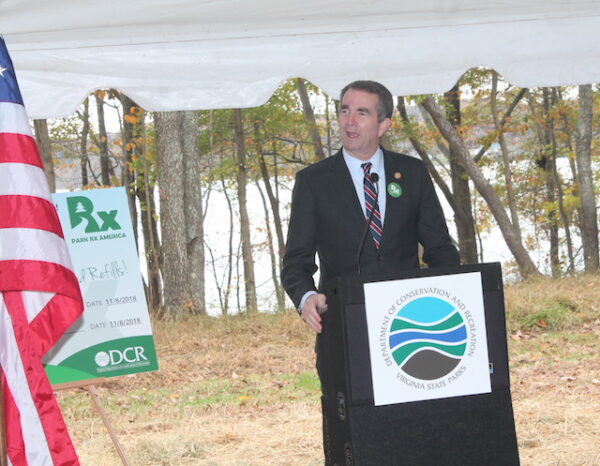 STAFFORD COUNTY — Widewater State Park officially opened today, becoming the 38th state park in Virginia.
Gov. Ralph Northam stood with the Potomac River at his back and spoke to a crowd of more than 200 people at a grand-opening ceremony.
"Historically, it has been the site of Civil War batteries, had been a haven for waterfowl hunting, and a fishing retreat for several presidents early in the 20th century," said Northam.
The 1,100 acre-property features two miles of shoreline along the Potomac River. The park sits on the Widewater Peninsula and is surrounded by the Potomac River to east and Aquia Creek to the west.
The $143 million park sits 40 miles from Washington, D.C. and features beaches, fluffs, 46 acres of tidal wetlands, hiking trails, picnic shelters, a public boat launch, and a visitors center complete with indoor restrooms and a park store.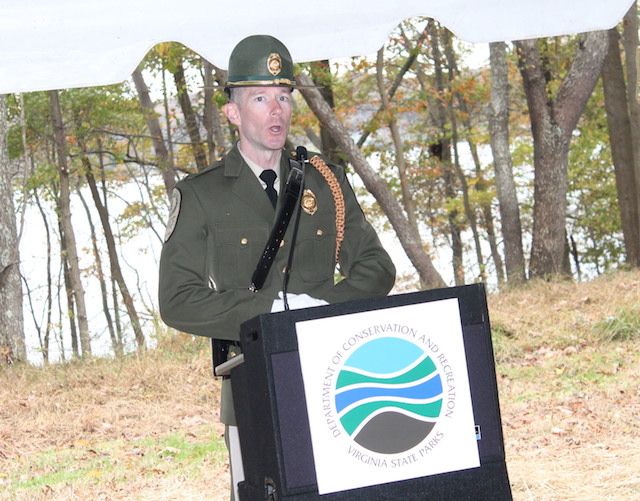 An additional $8 million more is needed to build the next two phases of the park which will include a fishing pier, tent camping areas, and camping cabins.
Virginia acquired the land for the state park in 2006 from for $6.1 million Dominion Power, where the utility wanted to build a power plant. Later, some 700 condos and apartments and a conference center were planned for the land before it was designated a state park and preserved.
The land sat dormant until work began on the first phase of the park last year.
"There are 1,100 acres they will never be developed," said Stafford County Falmouth District Supervisor and Board Chairman Meg Bohmke. That is a huge feat when we're dealing with huge growth in Stafford County."
Attendees stood sat and stood under cloudy skies with an air temperature of 53 degrees and listened to a myriad of speakers who lined up to inaugurate the park to include State Senators Scott Surovell and Richard Stuart, and Delegate Jennifer Carrol Foy.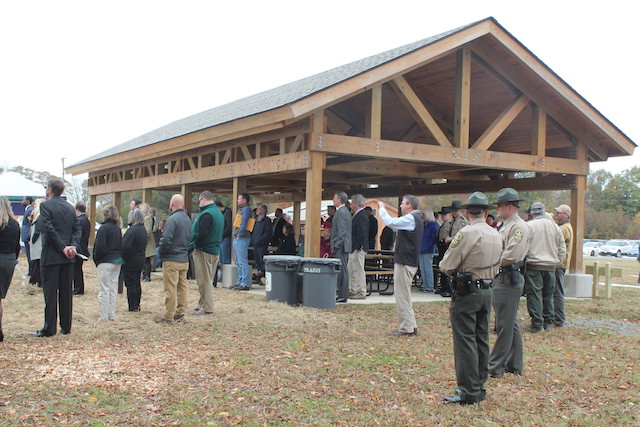 Carrol Foy said residents of Stafford County would no longer have to drive to Leesylvania State Park in Woodbridge to for public access to a state park on the Potomac River. A popular gathering spot, that park closed to the public six times in the past year because there was simply not enough room to park vehicles, she said.
Mark Dudenhefer, who reclaimed his seat on the Stafford County Board of Supervisors, was also praised for securing funding for the park while he was still a member of the Virginia House of Delegates in 2016.
Stafford County Griffis-Widewater District Supervisor Jack Cavalier was on hand to thank the multiple members of the Friends of Widewater State Park volunteers who helped with everything from formulating the master plan for the park, down to assembling park benches prior to opening day.
Officials touted state parks as economic development drivers that attract tourists and spur new business.
The new park joins Aquia Landing park and Crows Nest Natural Preserve as the only other public access points to the Potomac River in Stafford County.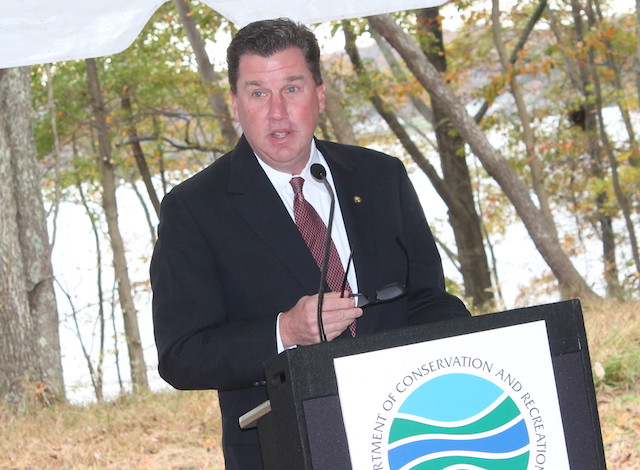 The park sits at the end of a nearly 10-mile stretch of Widewater Road, two-lane thoroughfare. Across railroad tracks at the park entrance, the entryway narrows to a one-lane, unmarked street. It's about a 20-minute drive from the Boswell's Corner area of Stafford County along Route 1.
The park opens at a time when U.S. citizens are spending less of their time outdoors, said Dr. Robert Zarr, a pediatrician from Washington, D.C. His Park Rx program allows prospective users to input their interests onto a website, such as hiking, swimming, or kayaking, and then receive recommendations via email on which parks to visit.
Zarr recommends everyone utilize a public space like Widewater State Park to walk outdoors for at least 20 minutes, three times a week to cut down on what he called a growing epidemic of obesity in the U.S.
Widewater State Park follows the opening of  Natural Bridge and Powhatan state parks in 2016 and 2013, respectively.