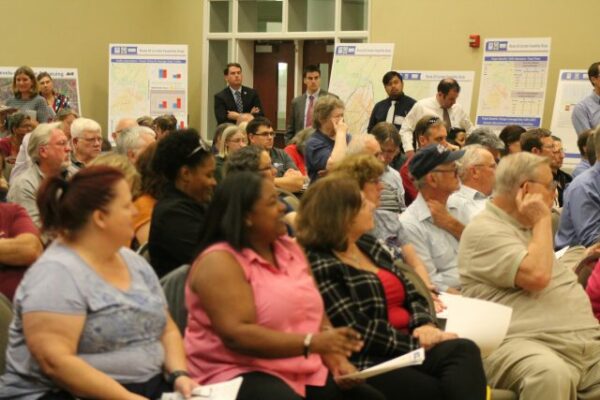 MANASSAS PARK — Extending Godwin Drive across the Bull Run River into Fairfax County is shaping up to be the most popular idea to relieve congestion on Route 28.
But some residents question whether four-and-a-half mile road, with and its nearly $200 million price tag, will do anything for congestion relief on Route 28 in Manassas.
The roadway has become Northern Virginia's most congested corridor.
Dubbed "Alternative 2B," the proposed road would extend Godwin Drive from Sudley Road near the Manassas Mall, between the Lomond neighborhood in Prince William County and residential neighborhoods in Manassas Park, across a new bridge over the Bull Run River connecting to Route 28 in Fairfax County.
About 200 people gathered Thursday night at the Manassas Park Community Center to gain insight, and to give input to local officials. Several large project display boards lined the room showing where roads could go, and whose homes could be at risk.
Prince William County Coles District Supervisor and Northern Virginia Transportation Authority (NVTA) Chairman Marty Nohe stressed no decision has been made on where to place any new road.
"I couldn't stand here and look you in the eye and tell you there won't be impacts from this project. There will be impacts, and some will be impacted more than others," Nohe told the crowd. "We won't see these big maps change. We will see a more detailed map."
The maps showed a loose representation of Alternatives 2B and 2A, Godwin Drive Extended, taking up a 250-foot swath of land, potentially taking with it about 70 homes. The favored "2B" route would cross the Bull Run River using a new bridge, while "2A" would connect with Route 28 just before the Bull Run in Prince William County.
The road would serve as a Manassas City bypass.
Another alternative, an extension of Liberia Avenue dubbed "Alternative 9" would run nearly five miles from the intersection of Sudley Road, Prescott Avenue, and Route 28 near Downtown Manassas, north along the same footprint as Lake Drive. It would reconnect with Route 28, dumping drivers back onto the congested roadway before the Bull Run River bridge in Prince William County.
The $245 million Liberia extension would require the local government seize both commercial and residential property.
The fourth, least-favored, and most expensive option is the estimated $245 million project to widen the existing Route 28 in Prince William County, dubbed "Alternative 4." The government would need to take 96 commercial properties to make it happen, which drives up the project's cost.
A wider Route 28 in Prince William would mean adding a new lane to the north and southbound sides of the road, taking it from a four to a six-lane road. It would connect with a $70 million project getting underway in Fairfax County that aims to widen Route 28 from four to six lanes between the Bull Run and Route 29.
The NVTA, which chooses what transportation projects in Northern Virginia, in October will call its next round of projects. By December, the board should choose which designs to fund.
"Some of the costs for these projects are jaw-dropping, but we can get the money, but, right now, we don't have a project to fund," added Nohe. "We will do something because Route 28 has become the forgotten corridor, and drivers are paying for the poor decisions made by elected officials from the 1960s and 1970s that affect us today."
Unintended consequences for extending Godwin?
When it comes to the highly-favored option of extending Godwin Drive, some wonder if that take more cars off Route 234 bypass west of Manassas, and do little or nothing for relieving congestion on Route 28 in Manassas.
"They haven't identified the project catchment area," said Bob Weir, of Haymarket, and longtime community activist. "Traffic flows like water, and this road is going to make it easier for people who live along Sudley Manor Drive, and in the Victory, Lakes neighborhood to use, to avoid I-66."
He asserts that drivers who live in western Prince William County in Bristow and Nokesville, and commuters from neighboring Fauquier County would use the Godwin Drive extension to bypass Manassas. The unintended consequence would mean little to no relief for drivers sitting in traffic on Route 28 between Downtown Manassas and the Bull Run River, he added.
One resident who lives near the Prince William County Fairgrounds said she used Route 234 bypass to get to I-66, to get to Route 28 to travel to her job in Reston. An extended Godwin Drive might be a good option for her change her commuting patterns, she added.
Prince William County Transportation Department Director Rick Canizales said the Route 28 Corridor Feasibility Study, the effort the prompted Thursday's meeting, found drivers would not be more inclined to choose to use an extended Godwin Drive versus taking Route 234 bypass, or Route 234 Business (Sudley Road) to reach I-66.
Route 234 bypass is the corridor eyed for the long-debated Bi-County Parkway, which remains on planning documents for the NVTA but is no longer in Prince William County's Comprehensive Plan.
"It's gone away for me," said Canizales.
The next steps for the effort to reduce congestion on the Route 28 corridor are to complete an 18 to 24-month environmental impact study of the proposed routes. Because Alternatives 2A and 2B –Godwin Drive Extended, and Alternative 9 — the extended Liberia Avenue runs alongside the Bull Run River, environmental concerns could increase the already "jaw-dropping" project cost estimates.
Once officials decide which project to fund, a Route 28 bypass could be open as soon as the end of 2024.
If elected leaders chose to do nothing, the average afternoon southbound commute time along the eight-mile stretch of Route 28 from I-66 to Manassasis expected to increase from an average of 46 minutes to 54 minutes by 2040. The morning northbound commute is expected to remain the same at 46 minutes due to Fairfax County's effort to widen Route 28 to six lanes north of the Bull Run.
Intersections along the roadway already clogged with cars, currently with a low service rating "F" will steep lower to a failing grade of "E," officials warned.
Route 28 bisects Downtown Manassas, and the number cars in that city are expected to increase from 21,300 to 29,000 by 2040.