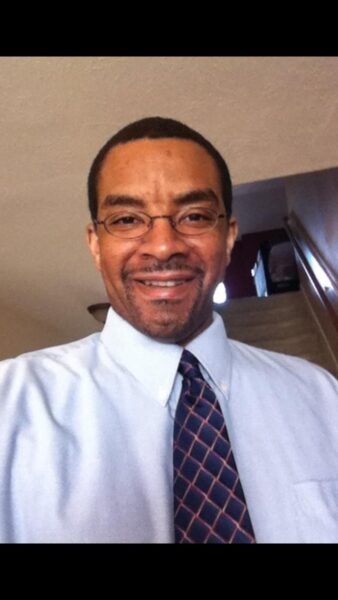 Larry Blanchard, Jr., 44, of Pearland, TX passed peacefully at home following a battle with cancer on Thursday April 9, 2015.
He was born to Larry, Sr. and Elnora Blanchard on March 22, 1971 in Portsmouth, VA. He graduated with honors from Osbourn Park High School located in Manassas, VA in 1989 and studied at George Mason University in Fairfax, VA. He went on to receive a BA in Finance from the University of Phoenix in 2005. Larry moved to Houston, TX in 1999 and married Kathryn Searle on January 1, 2000. In 2002 they moved to Pearland, TX and were blessed with two daughters: Lauren in 2005 and Evelyn in 2010.
Larry enjoyed a long tenure with JP Morgan Chase Bank. He started his career as a Personal Banker in 1999 and worked up through the ranks of bank management. He was thrilled when he landed a position as an Executive Specialist within the Executive Office and often referred to this as his "dream job". He was known as a dedicated employee who always came to work with a smile on his face.
He was blessed with the gift of life in 2006 when he received a lifesaving liver transplant just in the "nick of time". Because of this selfless gift, Lauren had time to get to know her father and the family was blessed with a second child, Evelyn. Through all of his medical trials and tribulations, Larry was able to maintain an upbeat attitude and positive outlook. He enjoyed spending time with his family and cheering on his beloved Dallas Cowboys.
Larry is survived by his spouse, Kathryn, and two young daughters Lauren and Evelyn Blanchard all of Pearland, TX, his parents, Larry, Sr. and Elnora Blanchard and his brother, Michael Blanchard all of Fredericksburg, VA.
He is also survived by his uncles, Elzie McDonald, Jr. (Joan) of Portsmouth, VA, William Blanchard, Jr. of Dale City, VA, his aunt, Elsie Wilkins of Woodbridge, VA, and special siblings including: Angela Throckmoton of Chesapeake, VA, Shelia and Monica Taylor of Norfolk, VA, Sharon Bowen (Larry Morse) of Washington DC, Rita, Vincent Jr., and Victor Bowen of Norfolk, VA, Dorothy Bostic of Ellicott City, MD, and Stephanie Boone of Baltimore, MD. His mother and father in-law, John and Nancy Searle, of Pearland, TX, brothers-in-law, Paul Searle (Christine) of Richmond, TX, and Matthew Searle of Pearland, TX, his sisters-in-law, Kirsten Daughdril (Scott) of Sandy Springs GA, and Alison Cotareol (Andy) of North Ft. Meyers, FL. And numerous friends and "work family" at Chase.
He is preceded in death by his beloved grandmother, Winnie Mae Wilson of Chesapeake, VA, and special siblings including Allen Bowen, Jr. of New York City, NY, Sandra Throckmorton of Chesapeake, VA, and Vincent Bowen, Sr. of Norfolk, VA.
A Memorial Service will be held at noon on Saturday April 25, 2015 at Ascension Episcopal Church located at 2525 Seagler, Rd. Houston, TX 77042.