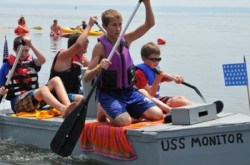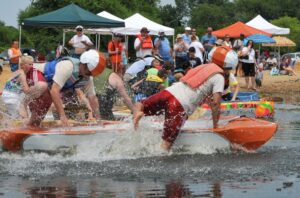 AQUIA LANDING, Va. ­­– The crews of the S.S. Songer and the Cardboard Speed Boat battled it out in contest of speed, rowing strength and cardboard boating know how.
At the start of the race Saturday, the pilots of the two homemade cardboard boats, along with a fleet of others, jumped into their crafts and started paddling with their oars.
They rounded the first two buoys about 300 yards off shore and then headed into the home stretch, back to shore at Stafford County's Aquia Landing Park on the Potomac River.
The Songer, some cardboard moving crates that had been glued together and painted a wild mix of neon pink, yellow and green, had the lead on of the other boats.
But then its nemesis, the Cardboard Speedboat, a streamlined cruiser of nothing more than glue and paper tape painted orange, made it back to the shoreline at the same time the Songer did.
But the speedboat's crew was able to jump out of their boat faster and pull it ashore for the win.
Wade Chi and Mark Schumaker of Fairfax, the boat's makers, were ecstatic.
But some who watched from the sidelines said it was a photo finish, and others cried foul.
"There's no way two guys from Fairfax should come down here and win this thing," said Eron Miller of Stafford.
Jamie Czetwertynski of Stafford piloted the Songer, and said her crew should have won.
"We got into a cluster traffic jam of boats at buoy one, but we were able to get past it and make it back to the beach. I don't know what the judges saw," she said.
Win or lose, the North Stafford Cardboard Boat Regatta was all in good fun, and is the Rock Hill Ruitan Club's charity for local schools.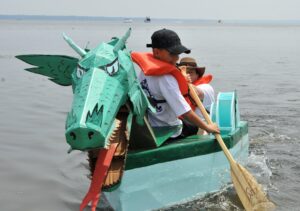 More than 100 people packed the riverside park just after 11 a.m. to see if the cardboard boats would float. Many of them, made to resemble a dragon, a battleship, even the Space Shuttle Atlantis – to put an aquatic spin on things – managed to compete in all seven of the day's races.
The boats were judged on creativity, best design, best team effort, most likely to float and most likely to sink.
And sink they did. Just seconds into the first race, 11-year-old Josh and his crew in a boat shaped to look like a Ford Mustang convertible went down.
Against all advice from cardboard boating pros, the crew started working on their craft during the week of the regatta.
"It didn't work out so well. We made the back of the boat too high and when we started the race I jumped in and it tipped over," said Josh.
But he's not deterred. He'll be back next year, he said.
Laurie Vinik, his mother, was proud of her son's boat but knew it was doomed from the start.
"I knew it was going to sink but this was a lot worse that I thought," said Vinik.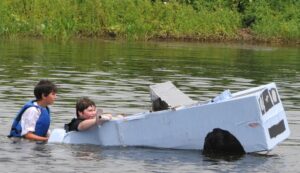 The eventual winners of the first childrens race, Conner and Steven, were welcomed back to the beach with roaring applause.
"We just gave it everything we had out there," said Conner.
Those who raced paid $10 in advance to register their boats, $15 on Saturday.
David Watson of the North Stafford Ruritans said they hoped to raise about $1,000 for the event. Some of the money goes into a small scholarship fund to help county schools and some of it goes to help teachers with supplies for their classrooms.
This is the seventh year the club held the fundraiser.
The winners received ribbons and gift certificates to the local businesses who sponsored the event.
The Day's Winners
Age 7-14 race
Conner Smith and Steven Wallesh
Parents and children race
Logan Williams and Benjamin Barnes
Business and organizations
Bill Schlotter and Jason Schedrake
Age 15 to 50 race
Mark Schumaker and Wade Chi
Age 51 and older
Bill Schlotter, Ann Schlotter
Luxury liner race
Jason Sheldrake
Grand Finale
Kathleen Myers and Hanna Buriro
Recent Stories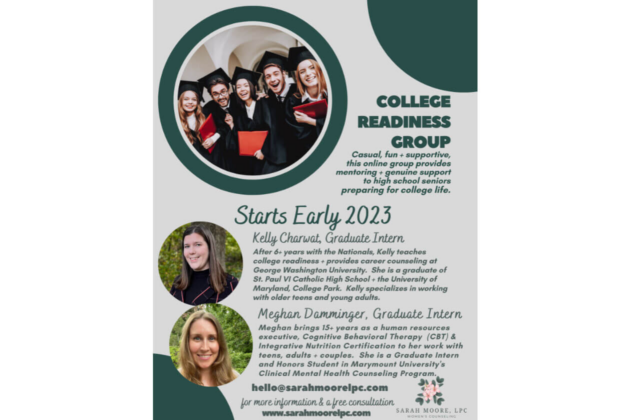 High School Senior Anxious about College Life? Our amazing graduate interns, Meghan Damminger and Kelly Charwat are starting an affordable College Readiness group in early 2023. Working out day and time. Please email [email protected] to set up a free consultation after the Thanksgiving holiday. And yes, Meghan and Kelly have a few openings for individual clients as well. Their rate is $45 per session. [www.sarahmoorelpc.com](http://www.sarahmoorelpc.com/?fbclid=IwAR3ZlfQnSLVRCc78HbTZutDYZErTctC_5pl- zt4eo_wjQo1gF6uHS–k32g).