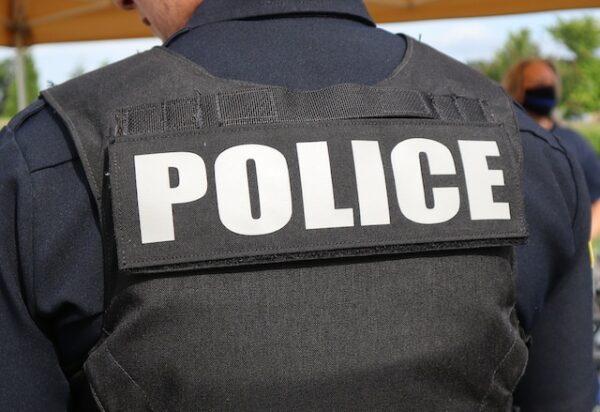 Area police departments are working to improve the way they respond to 9-1-1 calls.
In Prince William, the county just deployed its new E-911 technology. The system, which is being adopted by public safety agencies across the U.S., better works to pinpoint the location of the 9-1-1 caller to better help first responders find the site of the emergency.
Because legacy 9-1-1 systems have limited data and internet protocol capability, it is difficult to get more data across these networks, including being routed to the correct 9-1-1 center and having better location information provided by the cellular wireless carriers.

Upgrading the 9-1-1 infrastructure to the Next Generation 9-1-1 ESInet, positions Prince William County to begin leveraging modern technology for processing emergency calls, to include better location information from callers and the ability to transfer misrouted calls faster that come into Public Safety Communications and are actually intended for one of the four municipalities that surround the county.
Eventually, the county will be able to receive photos from callers reporting an incident. Once those photos are sent, they will become the county's property and will be subject to the Freedom of Information Act Law. 
"We are at least a year away from receiving photos from callers, as our call processing equipment cannot currently accept photos yet, said Eddie Reyes, who manages the county's public safety communications office. "But once that time arrives, yes, we will store them for evidentiary purposes for up to 180 days, per our retention policy. 
Anyone who wants to obtain a photo submitted by a 9-1-1 caller will be able to submit a records order to the county's Department of Public Safety Communications , as it will be the custodian of those images and subject to compliance with all FOIA laws and regulations.
In Manassas, that city is stepping up and changing how it responds to calls involving those suffering from a mental health disorder. The city police department is participating with Virginia's Marcus Alert System through the RapidSOS Emergency Response Data Platform.
"Ensuring that we are providing efficient services to citizens remains a top priority for our agency. This new technology will help officers and dispatchers get citizens the help they need quickly to continue saving lives", explains Manassas City Police Chief, Doug Keen.
The Marcus-David Peters Act, which was signed into law in 2020, requires Virginia localities to establish a voluntary database for citizens to register. The information will be made available to 9-1-1 dispatchers to provide mental health information and emergency contact information for use in emergency situations.
Once someone is registered, police officers can access information from the registry when they're called to a scene. Residents who wish to put their name on the list should do so at emergencyprofile.org, said Keen.
Recent Stories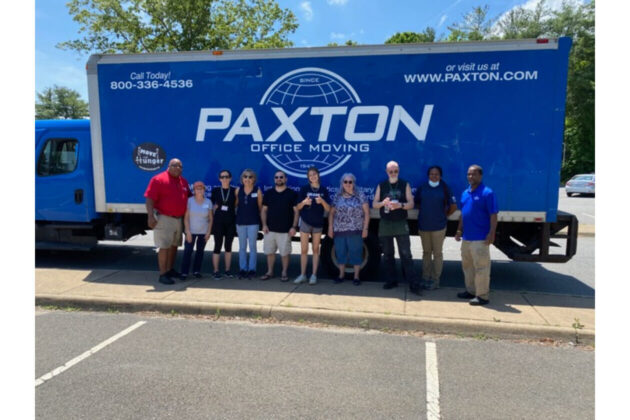 Every Sunday from May until November, the Dale City Farmer's Market offered to donate their leftover fresh produce to the North Virginia Food Rescue to help those struggling with hunger.
The Dale City Farmers Market has been serving its local community since 1987. It is one of the largest open-air markets in the area. Their first donation last May was over 3,300 lbs of produce. That single donation provided 2,825 meals to food insecure communities.
Since that time, they have completed 28 food donations totaling nearly 127,000 lbs taken to the food bank by Paxton Van Lines. This provided more than 105,800 fresh meals to those in need.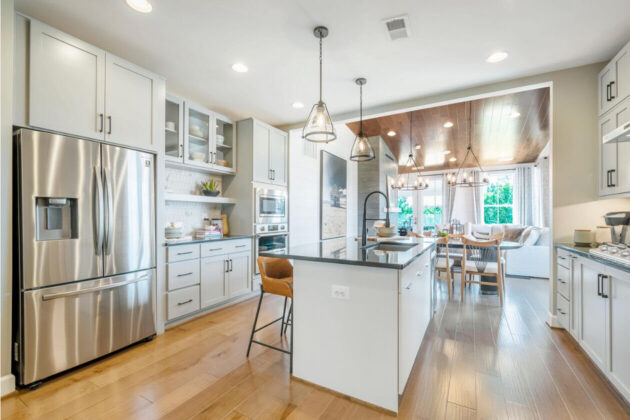 Miller & Smith announces Cascades at Embrey Mill, is now selling. The age qualified 55+ Active Adult community offers main level living with low- maintenance homes designed for homeowners to enjoy a carefree lifestyle in Stafford, Virginia, near Fredericksburg, Quantico and Washington, D.C. The villa style attached homes at Cascades at Embrey Mill are priced from the upper $400,000s. The Rainier plan is available with and without a walkout lower level delivering three to four bedrooms, two to three-and-a-half bathrooms and up to 2,800 square feet with a two-car front entry garage. The Rainier plan prioritizes space and flexibility via uninterrupted flow between rooms. Top wish list items such as a primary suite located on the main level, walk-in closets, and optional add-ons such as vaulted ceilings and zero entry primary showers attract prospective buyers. Other add-ons include a screened- in porch, patio and patio with screened-in porch. Buyers who need extra space can select a Rainier with a walkout lower-level plan. A community surrounded by a wealth of natural beauty, the Cascades at Embrey Mill offers residents 10 miles of trails and community gardens, pools, parks, a community café and multiple gathering spaces. An easy connection via I-95 to nearby national hotspots allows residents to live a universally fun and fulfilled life just minutes from home. Prospective buyers are encouraged to visit the newly decorated model home at 247 Smokebush Drive to see the Rainier model firsthand. Contact Debora Flora at 703-300-1333 for information.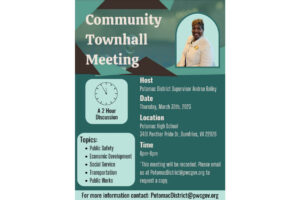 Potomac District community town hall-County officials and Supervisor Bailey will give important updates regarding the happenings in the district relative to transportation, social services, planning, and future projects.
Calling all serious runners, occasional joggers, and weekend walkers of all levels! Participate in the 31st Annual Van Metre 5K Run supporting Children's National Hospital–the event that goes a long way!
Date: Saturday, April 29, 2023
Time: 8:30AM
Location: Broadlands