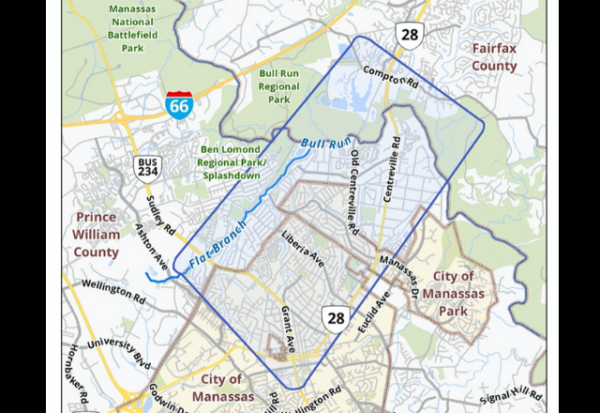 It's going to cost more — a lot more — but leaders in Prince William County say it's worth it.
The Prince William Board of County Supervisors today voted unanimously to widen a nearly four-mile stretch of Route 28 between Liberia Avenue in Manassas and the Fairfax County line. It's expected to cost at least $400 million — about $100 million more than a bypass that had been considered until today.
That bypass would have extended Godwin Drive four miles, from Sudley Road to the Route 28 at the Fairfax County line. The four-lane extension would have created a bypass around Manassas City. It would have provided more opportunities for commuters who live in the Linton Hall Road corridor, as well as those coming into Prince William County from neighboring jurisdictions like Fauquier and Stafford counties, a more direct path to Interstate 66 via Route 28.
"This is a situation where we can start talking about injecting real revitalization in this corridor," said Occoquan District Supervisor Kenny Boddye.
Widening Route 28 in its current alignment, means adding two new lanes in each direction. It was one of four options considered in 2017 before officials opted on the bypass plan.
Fairfax County is in the process of widening Route 28 from four to six lanes between the Prince William County line and I-66.
Bypass falls out of favor 
In recent weeks, however, the bypass lost vital support from Manassas City leaders who failed to endorse the plan. In Prince William County, Supervisor Yesli Vega, who has constituents that would have lost their homes due to the bypass construction, opposed the project.
"We have to look at the realities we are facing, and that reality is COVID," said Vega. "What is transportation going to look like in a year? Two years? right now, it's teleworking."
The project had its hurdles. In addition to plowing through 54 homes, the road would have needed to be built through a flood plain, and over federally-protected wetlands. The Army Corps of Engineers would have to have signed off on the project in order for its to have been built.
At-large Board Chair Ann Wheeler scolded Vega, as well as Supervisors Jeanine Lawson and Peter Candland, for opposing the bypass in the "11th and a half" hours, and said they should not have let the project to advance this far.
"I will go with widening Route 28," said Wheeler. "I feel like the taxpayers would like us to spend $100 million less."
Instead of homes, now commercial properties lie in the crosshairs of the local government as it shifts its focus from building a new stretch of road to widening an existing facility.
"It's the most unfavorable part of the job I have to do — taking people's homes and businesses," said county transportation director Rick Canizales. "This is a double-edged sword. No matter what we do, where we go, we will be impacting someone, somewhere."
Manassas in the middle
The decision to abandon the bypass will lock up nearly $90 million in state funding earmarked for the bypass by the Northern Virginia Transportation Authority until at least next summer. Canizales had until August 10 to work up an agreement between the county and the authority to secure the funding, which he would have used to design the four-lane bypass.
Now, with time on their side, Caniazles said the county's transportation department would look at the Route 28 widening project and come up with a design that will lessen the effects of the commercial property owners now in the path of the road widening.
A portion of Route 28, south of Manassas City, has already has been or is in the process of being widened from two to six lanes, between Pennsylvania Avenue at near the Manassas Regional Airport and Fitzwater Drive in Nokesville.
The portion of the road that runs through Downtown Manassas will still be just four lanes. The city regularly closes Route 28 in its downtown for festivals and other community events.
Similar to Route 1
A $165 million project to widen Route 1 in Woodbridge from four to six lanes between Marys Way and the Occoquan River is set to wrap up this fall.
Five years ago, before construction began, the Board of County Supervisors voted to spend $12 million to bury utility lines along on the one-and-a-half-mile stretch of road. Supervisors said the buried lines would lead to more desirable development in the corridor, still known for its a high number of mostly vacant shopping centers and car lots.
On the now-to-be widened portion of Route 28 north of Manassas, many of the same businesses exist.
"We've been talking about this for a generation on what to do there," said Candland. "The problems on Route 28 are significant."
Widening Route 28 is not currently in the county's comprehensive development plan. Canizales said supervisors may have to amend the policy for the project to proceed.
Recent Stories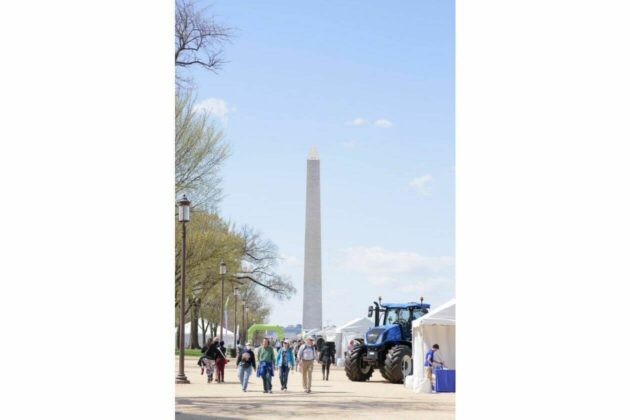 From Sunday, May 14 through Tuesday, May 16, the Association of Equipment Manufacturers (AEM) will be on the National Mall to host the Celebration of Construction on the National Mall from 9:00am – 5:00pm with construction equipment and technology on display for the public to experience.
The event will span the National Mall from 9th to 14th Streets NW. This free public event is a unique opportunity for families with young children and anyone who wants to see the equipment building the world's infrastructure. From excavators to bulldozers to paving equipment – it'll be a fun event for everyone!
Visit the link here to learn more details about the event.