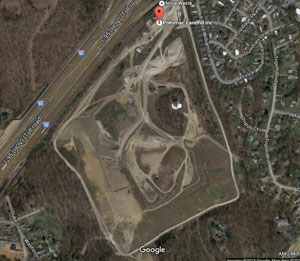 A debris landfill in Dumfries will close in 2032, and give the town government up to $4 million in host fees.
The Town Council and the landfill reached an agreement this month on the closure of the 101-acre facility. The agreement comes after years of on again, off again negotiations between the two entities.
Dumfries will be paid the host fee over the course of the next 16 years. In 2015, Potomac Landfill President Philip C. Peet told Potomac Local his landfill would be only of its kind in Virginia to pay such fees.
The landfill will also pay up to $50,000 for a study on how the land could be used following the closure. The land could be used for future parks and recreation facilities.
The agreement comes after years of wrangling between town residents, the Town Council, and landfill owners. After heavy rains in 2011, the smell of sulfur permeated throughout the town and adjacent Interstate 95 for weeks. The odors were treated and dissipated, but comments from town residents who argued that that the landfill trash heap was "too tall" never did.
The landfill will now be able to increase its height up to 250 feet. A 1987 court order mandated the landfill be no taller than 195 feet above sea level. Last spring, the landfill trash heap topped 220 feet.
The landfill must close on Feb. 2, 2032, regardless of how tall the trash heap is, said Dumfries Town Manager Dan Taber.
Potomac Landfill makes it money by mining materials dumped in the landfill and then selling them for scrap. The company will now pay 50 cents per net ton of debris brought to the landfill, and will eventually increase the fee to $2.50 per net ton once the Virginia Department of Environmental Quality new permits allowing the landfill to increase its height up to 250 feet.
The landfill will now also accept debris from Town of Dumfries Public Works crews at no charge, and will reimburse the town for all legal expenses incurred as part of the negotiations, said Taber.
A proposal in 2012 by the landfill to close in 15 years died after it proposed rising to 350 feet.
Recent Stories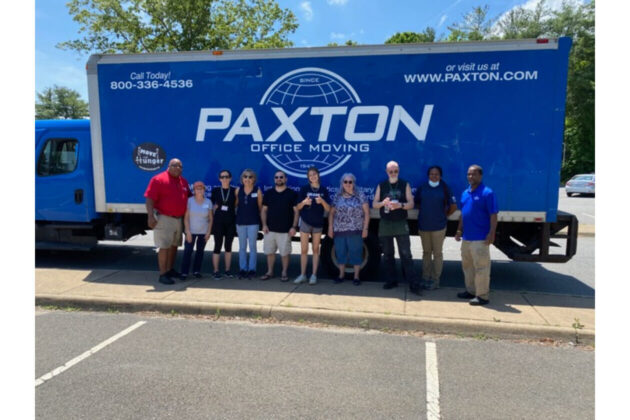 Every Sunday from May until November, the Dale City Farmer's Market offered to donate their leftover fresh produce to the North Virginia Food Rescue to help those struggling with hunger.
The Dale City Farmers Market has been serving its local community since 1987. It is one of the largest open-air markets in the area. Their first donation last May was over 3,300 lbs of produce. That single donation provided 2,825 meals to food insecure communities.
Since that time, they have completed 28 food donations totaling nearly 127,000 lbs taken to the food bank by Paxton Van Lines. This provided more than 105,800 fresh meals to those in need.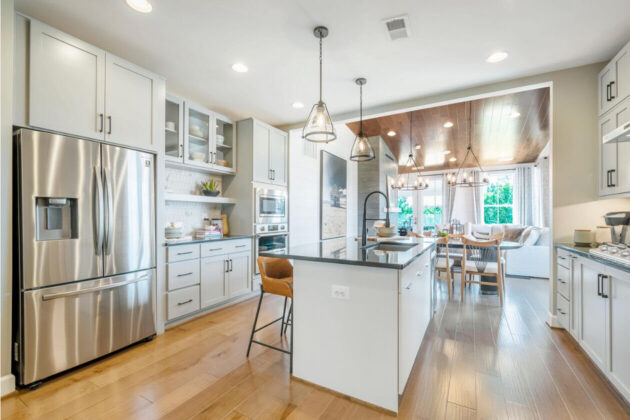 Miller & Smith announces Cascades at Embrey Mill, is now selling. The age qualified 55+ Active Adult community offers main level living with low- maintenance homes designed for homeowners to enjoy a carefree lifestyle in Stafford, Virginia, near Fredericksburg, Quantico and Washington, D.C. The villa style attached homes at Cascades at Embrey Mill are priced from the upper $400,000s. The Rainier plan is available with and without a walkout lower level delivering three to four bedrooms, two to three-and-a-half bathrooms and up to 2,800 square feet with a two-car front entry garage. The Rainier plan prioritizes space and flexibility via uninterrupted flow between rooms. Top wish list items such as a primary suite located on the main level, walk-in closets, and optional add-ons such as vaulted ceilings and zero entry primary showers attract prospective buyers. Other add-ons include a screened- in porch, patio and patio with screened-in porch. Buyers who need extra space can select a Rainier with a walkout lower-level plan. A community surrounded by a wealth of natural beauty, the Cascades at Embrey Mill offers residents 10 miles of trails and community gardens, pools, parks, a community café and multiple gathering spaces. An easy connection via I-95 to nearby national hotspots allows residents to live a universally fun and fulfilled life just minutes from home. Prospective buyers are encouraged to visit the newly decorated model home at 247 Smokebush Drive to see the Rainier model firsthand. Contact Debora Flora at 703-300-1333 for information.