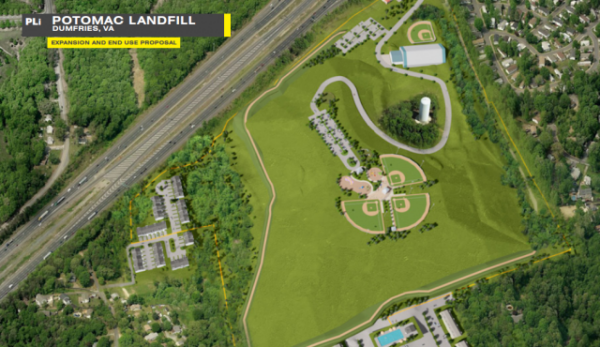 The Potomac Landfill wants to make a deal.
The 101-acre construction and debris landfill in Dumfries will soon be the largest landfill of its kind after the upcoming closure of a similar landfill in Lorton.
The growing pile of debris now stands at 220 feet. An order from the Virginia Department of Environmental Quality states the landfill is too tall, and that it needs to be reduced to be a maximum of 195 feet tall.
Potomac Landfill President Philip C. Peet proposed a new deal with the Town of Dumfries that would allow him to continue piling up debris on the site, up to 250 feet tall over the next 20 years, when the landfill is expected to close.
In exchange for the increased height, Potomac Landfill will offer to pay Dumfries up to $3 million over 20 years. It will be the only construction and debris landfill in Virginia to pay a host fee.
The fees, about $2 per metric ton when the program is fully implemented in 2019, is expected to net $150,000 per year for the town. It would be paid based off the materials that end up in the landfill. Potomac Landfill sifts through and separates as much wood, concrete, dirt, metals, and cardboard from truckloads hauled into the landfill. It sells the materials to firms that will recycle it.
Peet said the landfill once had a conveyor belt and a team of people that sifted through the materials by hand. The job is now done with three front-end loaders and a handful of people.
A series of public meetings about the landfill's proposal were held on July 27 and Aug. 4. This proposal differs from a 2012 plan that fell flat when landfill officials offered to close the landfill 15 years early and use only 39 of its total 58 acres of land, in exchange for being allowed to pile debris as tall as 310 feet.
"At that point, it just becomes too tall, and all you have is a peak, and you can't do much with the land after that," said Peet.
Reclaiming the land for future uses was as much a topic of discussion as how much the town stands to benefit from the deal financially. When the landfill closes, the land at the entrance to the landfill could be developed into retail shops, or a pay-to-play sports and recreation center, said Peet.
Baseball diamonds, tennis courts, or soccer fields could be built in a park on top of the mound. The landfill must be monitored for 10 years after it closes, but that would not delay construction of the park, Peet said.
Peet also said new muti-family homes, most likely apartments, could then be built on land now owned by the landfill, along Main and Duke streets in Dumfries.
Peet said he hoped the Town Council would approve his plan this fall. If it does, Potomac Landfill will begin paying Dumfries 50 cents per metric ton of debris buried at the landfill. Once plans are finalized with the DEQ, the town will get $1.50 per metric ton, and will be paid $2 per ton once all practices in place by 2019, said Peet.
Potomac Landfill also agrees remove a stipulation from a 1987 court order that would allow them to build a used tire recycling facility the company maintains it is allowed to build. Town Councilman Charles Brewer disagreed, and said the ability for the landfill to construct a used tire processing center was taken off the books many years ago.
If the plan is a approved, a new berm will be constructed to hold the additional debris to be piled into the landfill. The berm would change the elevation, which would be easily noticed by drivers on Interstate 95 and Route 234.
Residents at the meeting had few reservations about the landfill's proposed plan. They did raise concerns sulfur odors that emanate from the landfill after heavy rains, dust, and truck noise.
Peet said he's hired a street cleaning service to clean the entrance and exit of the landfill to reduce dust, and said only 2o odor complaints were investigated between December 2013 and June 2015. In 2011, Virginia officials investigated the landfill due to sulfur odors.
Recent Stories
Ragtime has rolled onto the stage at Riverside Center for the Performing Arts.
Sentara will no longer force most employees, patients, and visitors to wear facemasks.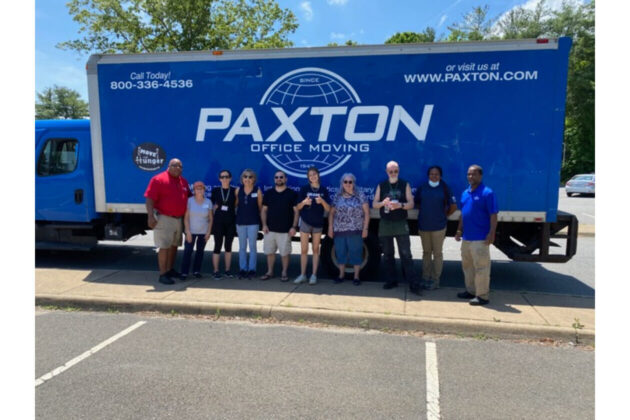 Every Sunday from May until November, the Dale City Farmer's Market offered to donate their leftover fresh produce to the North Virginia Food Rescue to help those struggling with hunger.
The Dale City Farmers Market has been serving its local community since 1987. It is one of the largest open-air markets in the area. Their first donation last May was over 3,300 lbs of produce. That single donation provided 2,825 meals to food insecure communities.
Since that time, they have completed 28 food donations totaling nearly 127,000 lbs taken to the food bank by Paxton Van Lines. This provided more than 105,800 fresh meals to those in need.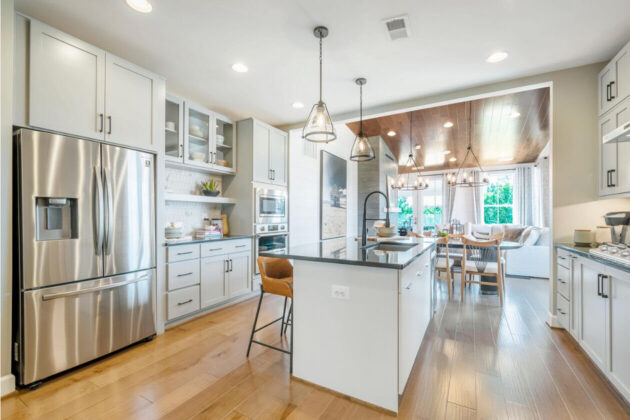 Miller & Smith announces Cascades at Embrey Mill, is now selling. The age qualified 55+ Active Adult community offers main level living with low- maintenance homes designed for homeowners to enjoy a carefree lifestyle in Stafford, Virginia, near Fredericksburg, Quantico and Washington, D.C. The villa style attached homes at Cascades at Embrey Mill are priced from the upper $400,000s. The Rainier plan is available with and without a walkout lower level delivering three to four bedrooms, two to three-and-a-half bathrooms and up to 2,800 square feet with a two-car front entry garage. The Rainier plan prioritizes space and flexibility via uninterrupted flow between rooms. Top wish list items such as a primary suite located on the main level, walk-in closets, and optional add-ons such as vaulted ceilings and zero entry primary showers attract prospective buyers. Other add-ons include a screened- in porch, patio and patio with screened-in porch. Buyers who need extra space can select a Rainier with a walkout lower-level plan. A community surrounded by a wealth of natural beauty, the Cascades at Embrey Mill offers residents 10 miles of trails and community gardens, pools, parks, a community café and multiple gathering spaces. An easy connection via I-95 to nearby national hotspots allows residents to live a universally fun and fulfilled life just minutes from home. Prospective buyers are encouraged to visit the newly decorated model home at 247 Smokebush Drive to see the Rainier model firsthand. Contact Debora Flora at 703-300-1333 for information.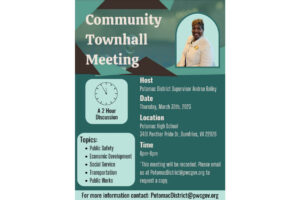 Potomac District community town hall-County officials and Supervisor Bailey will give important updates regarding the happenings in the district relative to transportation, social services, planning, and future projects.
Calling all serious runners, occasional joggers, and weekend walkers of all levels! Participate in the 31st Annual Van Metre 5K Run supporting Children's National Hospital–the event that goes a long way!
Date: Saturday, April 29, 2023
Time: 8:30AM
Location: Broadlands