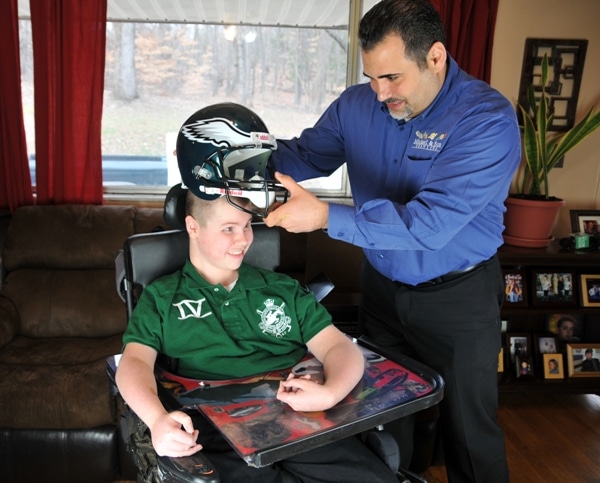 Triangle, Va. — Brandon Anderson suffers from Muscular Dystrophy and lives with his mother in Triangle.
The 15-year-old has had trouble breathing since the earthquake that rocked Virginia last August destroyed the oil boiler outside their trailer. Brandon has problems breathing in cold and humid air, and the breathing problems only make his medical condition worse.
That's when a local business stepped in to fix the problem and provide Brandon – a die hard Philadelphia Eagles fan – a special gift.
"I went out posed as a technician to surprise the family after I heard their story. Once I met Brandon, my heart just sank. He is the sweetest kindest kid who doesn't need to be going through all this," said Michael and Son Owner Basim Mansour in a press release. He has to sleep under layers of blankets at night and his health is suffering because he doesn't have the most common of necessities. I knew that we had to do something immediately."
Mansour's company replaced the oil boiler with a heat pump and new air conditioning unit, as well as did all of the duct work in the house. Mansour also presented Brandon with a new Eagles football helmet, so he could wear something from his favorite football team.
Recent Stories
Discover Healing and Renewed Well-Being through Psychotherapy
Life's challenges can sometimes feel overwhelming, leaving us with feelings of anxiety, depression, and uncertainty. That's where psychotherapy can make a profound difference. Our dedicated team of experienced therapists is here to guide you on a journey towards emotional and mental well-being.
Why Choose Psychotherapy?