By Michael Bodine
Capital News Service
Richmond, Va. —  The Virginia General Assembly has been a battleground over abortion rights for years. While many bills restricting abortion rights were killed in the Democratic-controlled Senate in the past, recent Republican gains in the upper chamber increase the odds that such legislation will pass this session.
Two bills introduced in the House of Delegates in the 2012 session would mandate ultrasound testing before an abortion.
Delegate Mark Cole (R-Fredericksburg, Stafford) filed House Bill 261, which would require ultrasound testing at least 48 hours before the abortion is performed. After the gestational age and size of the fetus are determined, a copy of the ultrasound image would be printed and permanently filed in the pregnant woman's medical record.
"I think it's a good bill and will enhance women's health," Cole said. "Certainly, I think women should make informed choices, and I think this bill would accomplish that."
Delegate Kathy Byron, a fellow Republican from Lynchburg, filed HB 462, which is nearly identical to Cole's proposed legislation. Byron's bill proposes that fetal ultrasound imaging be done at least two hours before an abortion. In addition, the sound of the fetus's heart would be examined in another effort to determine the gestational age of the fetus.
This is not the first year that Byron has proposed mandatory ultrasound examinations before an abortion. She proposed virtually the same bill in 2010, but without a deadline for the ultrasound examination.
"I don't care which bill goes forward," Cole said. "We can combine them, and I can carry it or she can. It doesn't matter to me. I'd just like to see if we can advance the issue."
Two similar bills have been introduced by Republicans in the Senate. They are Senate Bill 279, sponsored by Sen. Ralph Smith of Roanoke, and SB 484, proposed by Sen. Jill Vogel of Winchester.
Until this year, Democrats controlled the Senate – they had a 22-18 majority during the 2011 legislative session. That allowed Democrats to dominate the Senate Education and Health Committee, where many bills limiting abortion rights died.
But in last fall's elections, Republicans won two previously Democratic seats – and now the Senate is evenly divided, 20-20, between the two parties. Moreover, the GOP has a trump card: The Senate's presiding officer, Lt. Gov. Bill Bolling, is a Republican and can break tie votes.
This session, Republicans hold eight of the 15 seats on Senate Education and Health Committee. Republican Sen. Stephen Martin of Chesterfield now chairs the committee; his predecessor, Democratic Sen. Edd Houck of Spotsylvania, lost his re-election bid in November.
That has increased the odds that a bill restricting abortion will survive the Senate Education and Health Committee and squeak through the evenly divided Senate, said Dr. Bob Holsworth, founder of Virginia Commonwealth University's Wilder School of Government.
"The committee is certainly a more pro-life committee, and the bill stands a better chance of passage," said Holsworth, now a political consultant who has served on advisory commissions for both Republican and Democratic governors.
"In addition, if there was a tie vote in the entire Senate, I would certainly expect a pro-life lieutenant governor such as Bill Bolling to break the tie in favor of passage."
Victoria Cobb, president of the Family Foundation of Virginia, supports bills requiring an ultrasound before a woman has an abortion. She said she believes such laws benefit women's health.
"The legislation we support is modeled after ultrasound laws in nearly 20 states that have withstood constitutional review," Cobb said.
"It is important that the doctor performing the abortion know exactly how old and large the unborn child is to ensure the safety of the mother. … The ultrasound legislation will be one of our highest priorities in the 2012 General Assembly, and we are confident it will pass and go to the governor's desk for his signature."
Abortion-rights activists dispute the need for such bills, however.
"Virginia women should have the option of an ultrasound if they request it or if their doctor recommends it," said a recent post on NARAL Pro-Choice Virginia's blog. "Politicians should not be allowed to put their agenda in the examining room with the doctor and the patient and add yet another financial and logistical obstacle for women seeking abortion care."
Recent Stories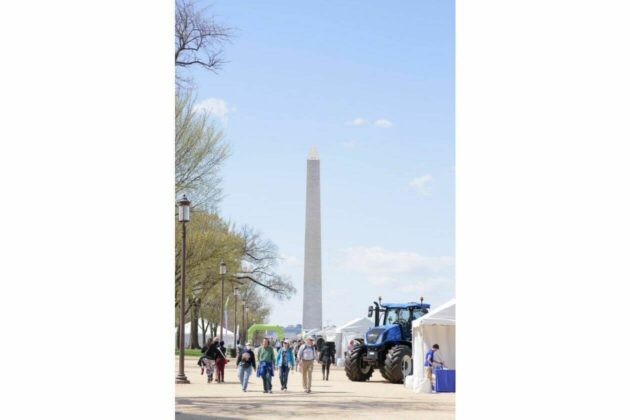 From Sunday, May 14 through Tuesday, May 16, the Association of Equipment Manufacturers (AEM) will be on the National Mall to host the Celebration of Construction on the National Mall from 9:00am – 5:00pm with construction equipment and technology on display for the public to experience.
The event will span the National Mall from 9th to 14th Streets NW. This free public event is a unique opportunity for families with young children and anyone who wants to see the equipment building the world's infrastructure. From excavators to bulldozers to paving equipment – it'll be a fun event for everyone!
Visit the link here to learn more details about the event.