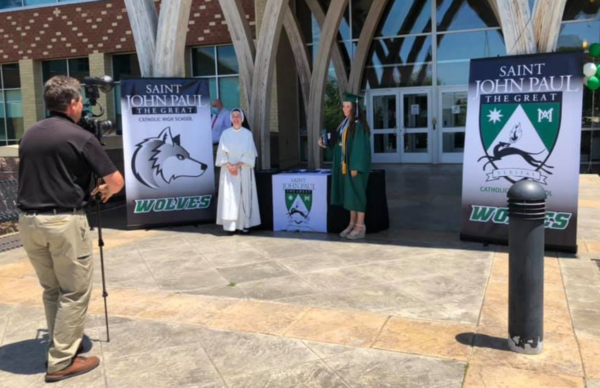 Catholic high schools in the Diocese of Arlington are capping off an unprecedented year with in-person graduation ceremonies for the Class of 2021. Each graduate can invite four guests to join in the celebratory occasion.
The ceremonies, to be held on each respective school's football field, will take place at the end of May and in early June. High schools in the Diocese safely re-opened at the beginning of the 2020-21 academic year for hybrid (in-person and virtual) learning, as all 41 brick-and-mortar schools reopened for fully in-person or hybrid instruction. This fall, the four high schools plan to resume full-time in-person instruction with ongoing COVID-19 mitigation safety protocols in place.
"Our high school graduates have great cause for celebration. They faced the unprecedented challenges of the year with faithful, hopeful resolve, and their charitable leadership as members of the graduating class helped our schools make history as they remained open throughout the 2020-21 academic year," said Bishop Michael F. Burbidge, Catholic Diocese of Arlington. "Over the past year, Catholic educators and administrators rose to the challenge and guided our students productively. I offer my deep gratitude for all they have done and continue to do. Through our shared experiences this past year, we are reminded of three fundamental realities of life: we must rely on our Lord's providence; time spent with family is critically important; and charitable, compassionate outreach to our neighbors should be a constant part of our lives. My prayer for each graduate is that the gift of their Catholic education, and the lessons of this year, bear fruit in extraordinary ways for years to come. May the graduating Class of 2021 be filled with joy and renewed hope as they enter a new stage in their lives."
Class of 2021 High School Graduation Schedule
Bishop Ireton High School
Date and Time: Thursday, May 27, 10 a.m.
Address: 201 Cambridge Rd., Alexandria, VA 22314
Location: Football Field
Saint John Paul the Great Catholic High School
Date and Time: Friday, May 28, 10:30 a.m.
Address: Potomac Shores, 17700 Dominican Dr., Dumfries, VA 22026
Location: Football Field
Bishop Denis J. O'Connell High School
Date and Time: Thursday, June 3, 12 p.m.
Address: 6600 Little Falls Rd., Arlington, VA 22213
Location: Football Field (Monsignor James McMurtrie Field)
St. Paul VI Catholic High School
Date and Time: Sunday, June 6, 9 a.m.
Address: 42341 Braddock Rd., Chantilly, VA 20152
Location: Football Field (Panther Stadium Field)
Recent Stories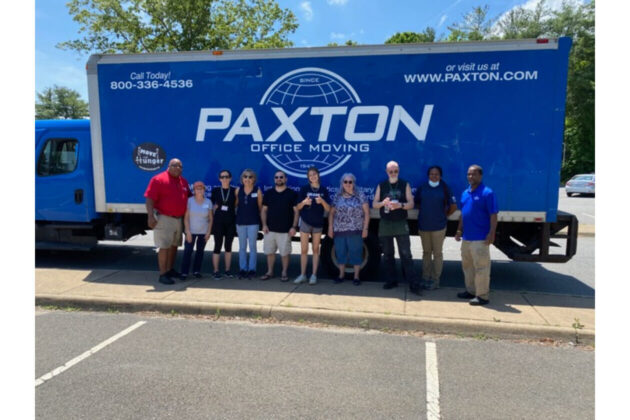 Every Sunday from May until November, the Dale City Farmer's Market offered to donate their leftover fresh produce to the North Virginia Food Rescue to help those struggling with hunger.
The Dale City Farmers Market has been serving its local community since 1987. It is one of the largest open-air markets in the area. Their first donation last May was over 3,300 lbs of produce. That single donation provided 2,825 meals to food insecure communities.
Since that time, they have completed 28 food donations totaling nearly 127,000 lbs taken to the food bank by Paxton Van Lines. This provided more than 105,800 fresh meals to those in need.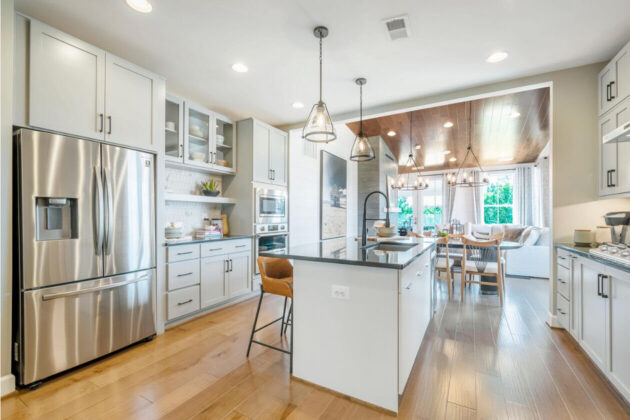 Miller & Smith announces Cascades at Embrey Mill, is now selling. The age qualified 55+ Active Adult community offers main level living with low- maintenance homes designed for homeowners to enjoy a carefree lifestyle in Stafford, Virginia, near Fredericksburg, Quantico and Washington, D.C. The villa style attached homes at Cascades at Embrey Mill are priced from the upper $400,000s. The Rainier plan is available with and without a walkout lower level delivering three to four bedrooms, two to three-and-a-half bathrooms and up to 2,800 square feet with a two-car front entry garage. The Rainier plan prioritizes space and flexibility via uninterrupted flow between rooms. Top wish list items such as a primary suite located on the main level, walk-in closets, and optional add-ons such as vaulted ceilings and zero entry primary showers attract prospective buyers. Other add-ons include a screened- in porch, patio and patio with screened-in porch. Buyers who need extra space can select a Rainier with a walkout lower-level plan. A community surrounded by a wealth of natural beauty, the Cascades at Embrey Mill offers residents 10 miles of trails and community gardens, pools, parks, a community café and multiple gathering spaces. An easy connection via I-95 to nearby national hotspots allows residents to live a universally fun and fulfilled life just minutes from home. Prospective buyers are encouraged to visit the newly decorated model home at 247 Smokebush Drive to see the Rainier model firsthand. Contact Debora Flora at 703-300-1333 for information.