By Ralph & Kathy Stephenson
Prince William Citizens for Balanced Growth
We've been in close contact with Brett Gloss and other plaintiffs who filed the Freedom of Information Act legal complaint against the Prince William Board of County Supervisors Democratic majority regarding the Dems' May 31 meeting that excluded the three Republican supervisors.
We are writing this message with the plaintiffs' knowledge and support.
We support the plaintiffs' current intent to file a motion to Fairfax County Judge Dennis J. Smith to reconsider his decision and, if unsuccessful, after that to possibly file an appeal.
As we, Gloss, and his co-plaintiffs have suggested, the judge failed to look at the statute in plain language and imposed an insurmountable bar which required the plaintiffs to prove intent. The statute does not require proof of intent, only that the five Democrats attended and public business was discussed.
Judge Smith also inappropriately applied the public forum exception because, in his view, the defendants did not arrange the meeting, thus the meeting was not subject to FOIA law.  But testimony from the defendants clearly established that the police chief arranged the meeting, and the police chief, of course, reports directly to the BOCS.  The judge's judicial activist reasoning in this case creates a huge loophole for future violators to keep the public in the dark:  just get a subordinate office to schedule the meeting.  A county government entity arranged the May 31 meeting and only select members of the public — those with ties to Supervisor Bailey's husband — were able to attend.  County citizens and the press were kept in the dark.
Here are some of our unanswered questions about the judge's ruling:
Why did it fall to private citizens to file suit in this case and be subject to a high-hurdle burden of proof?  Why were county or state attorneys/prosecutors not even investigating this apparent Freedom of Information Act violation, much less bringing charges themselves, with all the resources of the state behind them?
As previously noted, proof of intent is not a requirement to show guilt in this case.  However, from an ethical, not a legal standpoint, if innocent of intent to exclude the other three Board of County Supervisors members from the meeting, why didn't even one of the five Democrats, particularly Chair At-large Ann Wheeler, bother to call and invite even one of the three Republicans as soon as it was obvious they weren't at the meeting — particularly Supervisor Peter Candland, whose district was directly affected by the riots being discussed?
Again from an ethical standpoint, why has Chair Wheeler apparently still not apologized to the public or any of the three Republicans for excluding them — in clear breach of common decency and her role as at-large Board of County Supervisors Chair At-large for representing the entire county?
This ruling, if left unrevised, it will increasingly put local government decision making in the shadows with little or no accountability — an outcome clearly desired by Chair Wheeler, who has repeatedly and unprecedentedly tried to limit citizen free speech and the right to petition the government at Board of County Supervisors meetings, as well as the right to peaceably assemble.
Since the state and county government are not doing their job to litigate Freedom of Information Act law in this case, it falls to private residents to do so.  Here is the plaintiffs' GoFundMe site to cover their ongoing legal fees to help keep our government transparent, accountable, and in service to all the public — not just a few favored groups.
We thank the plaintiffs for their civic virtue; we support them and urge readers to do so, too.
Recent Stories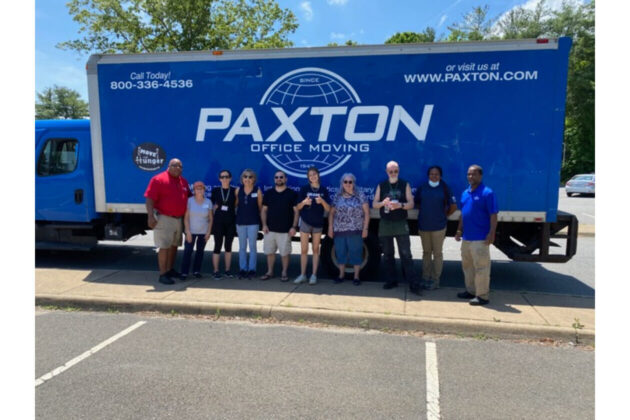 Every Sunday from May until November, the Dale City Farmer's Market offered to donate their leftover fresh produce to the North Virginia Food Rescue to help those struggling with hunger.
The Dale City Farmers Market has been serving its local community since 1987. It is one of the largest open-air markets in the area. Their first donation last May was over 3,300 lbs of produce. That single donation provided 2,825 meals to food insecure communities.
Since that time, they have completed 28 food donations totaling nearly 127,000 lbs taken to the food bank by Paxton Van Lines. This provided more than 105,800 fresh meals to those in need.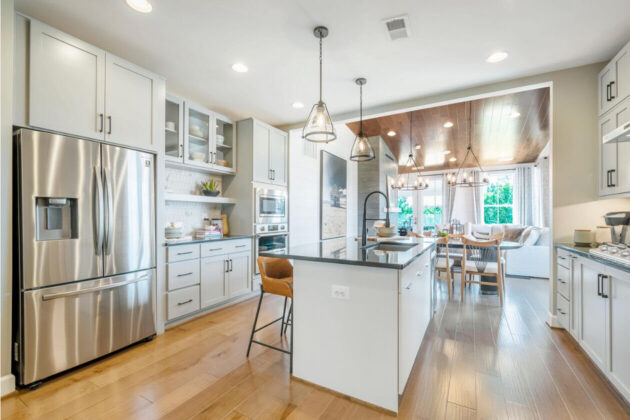 Miller & Smith announces Cascades at Embrey Mill, is now selling. The age qualified 55+ Active Adult community offers main level living with low- maintenance homes designed for homeowners to enjoy a carefree lifestyle in Stafford, Virginia, near Fredericksburg, Quantico and Washington, D.C. The villa style attached homes at Cascades at Embrey Mill are priced from the upper $400,000s. The Rainier plan is available with and without a walkout lower level delivering three to four bedrooms, two to three-and-a-half bathrooms and up to 2,800 square feet with a two-car front entry garage. The Rainier plan prioritizes space and flexibility via uninterrupted flow between rooms. Top wish list items such as a primary suite located on the main level, walk-in closets, and optional add-ons such as vaulted ceilings and zero entry primary showers attract prospective buyers. Other add-ons include a screened- in porch, patio and patio with screened-in porch. Buyers who need extra space can select a Rainier with a walkout lower-level plan. A community surrounded by a wealth of natural beauty, the Cascades at Embrey Mill offers residents 10 miles of trails and community gardens, pools, parks, a community café and multiple gathering spaces. An easy connection via I-95 to nearby national hotspots allows residents to live a universally fun and fulfilled life just minutes from home. Prospective buyers are encouraged to visit the newly decorated model home at 247 Smokebush Drive to see the Rainier model firsthand. Contact Debora Flora at 703-300-1333 for information.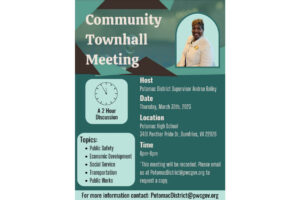 Potomac District community town hall-County officials and Supervisor Bailey will give important updates regarding the happenings in the district relative to transportation, social services, planning, and future projects.
Calling all serious runners, occasional joggers, and weekend walkers of all levels! Participate in the 31st Annual Van Metre 5K Run supporting Children's National Hospital–the event that goes a long way!
Date: Saturday, April 29, 2023
Time: 8:30AM
Location: Broadlands