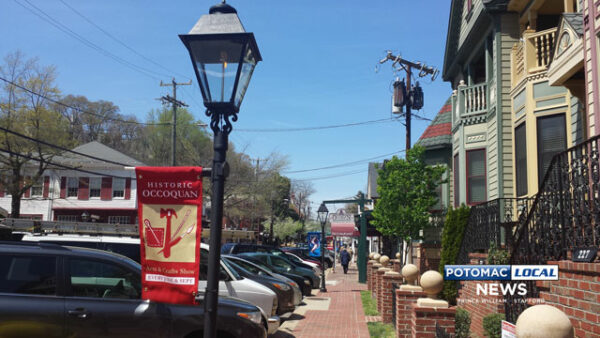 OCCOQUAN — (Press release) The Town of Occoquan and the Occoquan Merchants' Guild will host Discover Occoquan on Saturday, May 18, 2019, from 11 a.m. to 8 p.m. in Occoquan.
This event features a full day of free activities:
Interactive classes
Demonstrations hosted by Occoquan businesses,
Scavenger hunt
History tour
Pop-up tea room
Photo booth
Live entertainment
The event culminates with a beer garden and concert in River Mill Park.
The day kicks off at 11 a.m. when businesses will be hosting a variety of free drop-in classes that include yoga in the park, candle pouring, painting, fiber arts, and more. Demonstrations include art and glass, personal style, puzzle making, food preparation and sampling, textile image transfers, and SCUBA.
Art on the Block will also be showcasing the works of Occoquan's many talented artists.
Enjoy light refreshments, meet the artists, watch art demos, and enter to win an Occoquan gift basket.
Be sure to stop by Town Hall, 314 Mill Street for more fun! Pick up a map and a schedule of town activities. The Scavenger Hunt begins at 11 a.m.
Enter your children in the Occoquan Kids Council raffle to become a council member for a day or even the mayor. A full Kids Council will be drawn at 4 p.m.
Throughout the day, the town will sponsor a silent auction featuring donations by local businesses. At 1 p.m., Occoquan resident Henry Brinton will read from his new and locally set book, City of Peace. Stay for a special presentation of Will Rogers' U.S.A. presented by Kaleidoscope Theatre Company from 3 p.m. to 4 p.m.
At Mill House Museum, 413 Mill Street, there will be a history tour led by Mayor Porta at 1 p.m. and a dedication for the new historical marker at 3 p.m. A pop-up tea room, sponsored by Lady D's Traveling Tea Party, will be available at Rockledge Mansion, at 440 Mill Street, between 11 a.m. and 4 p.m.
Finally, this fun-filled day will culminate with a beer garden in River Mill Park, 458 Mill Street from 4 p.m. to 8 p.m., featuring Water's End Brewery. Musical guests include award-winning Nashville singer/songwriter Cheley Tackett and local favorite Joe Downer. Be sure to stop by one of our restaurants for a to-go meal and enjoy it in the park.
SCHEDULE OF ACTIVITIES
STREETS
11 a.m. – 12 p.m. Scavenger Hunt, begins at Town Hall
11 a.m. – 4 p.m. Drop-in Classes and Demos
11 a.m. – 4 p.m. Art on the Block
1 p.m. – 2:30 p.m. Historic Tour, begins at Mill House Museum
11 a.m. – 4 p.m. Photo Booth
11 a.m. – 4 p.m. Pop-Up Tea Room at Rockledge Mansion
3 p.m. Historical Marker Dedication, Mill House Museum
TOWN HALL
11 a.m. – 4 p.m. Silent Auction
11 a.m. – 4 p.m. Occoquan Kids Council Raffle, drawing at 4 pm
1 p.m. – 2 p.m. Book Reading from City of Peace by Henry Brinton
3 p.m. – 4 p.m. Will Rogers' U.S.A. presented by Kaleidoscope Theatre Company
RIVER MILL PARK
4 p.m. – 8 p.m. Cornhole Games
4 p.m. – 8 p.m. Beer Garden, featuring Water's End Brewery
4 p.m. – 6 p.m. Musical Guest: Joe Downer (Rock)
6 p.m. – 8 p.m. Musical Guest: Cheley Tackett (Americana)
Admission is free. Free on-street and public lot parking is available in town.
In addition, off-site parking with shuttle bus service sponsored by Patriot Scuba is available from the Route 123 Commuter lot at the intersection of Old Bridge Road and Gordon Boulevard and drops off at 305 Mill Street.
The shuttle service will collect patrons from the lot on the half hour beginning at 11 a.m. The shuttle is free, but donations to the non-profit Patriots for Disabled Divers are appreciated.
Recent Stories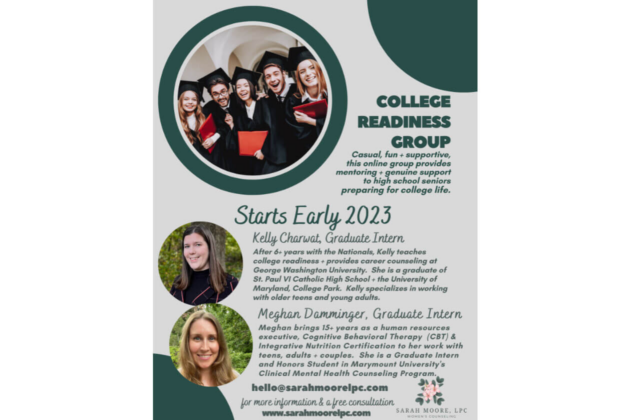 High School Senior Anxious about College Life? Our amazing graduate interns, Meghan Damminger and Kelly Charwat are starting an affordable College Readiness group in early 2023. Working out day and time. Please email [email protected] to set up a free consultation after the Thanksgiving holiday. And yes, Meghan and Kelly have a few openings for individual clients as well. Their rate is $45 per session. [www.sarahmoorelpc.com](http://www.sarahmoorelpc.com/?fbclid=IwAR3ZlfQnSLVRCc78HbTZutDYZErTctC_5pl- zt4eo_wjQo1gF6uHS–k32g).