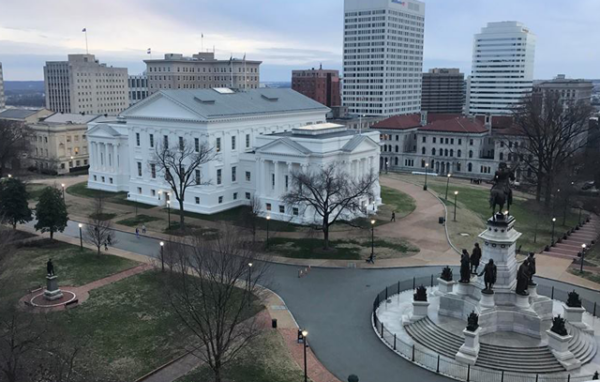 By Madison Hirneisen
(The Center Square) – A bill that would increase the standard tax deduction for both individual and joint filers, and lower Virginia's top personal income tax rate was passed along party lines by a committee of lawmakers Wednesday.
Virginia lawmakers in the House of Delegates Finance Committee voted 12-9 to advance House Bill 2319, a bill that would increase the standard income tax deduction from $8,000 to $9,000 for individual filers and from $16,000 to $18,000 for joint filers. The measure would also reduce the top income tax rate from 5.75% to 5.5%.
The provisions in the bill align with the $1 billion in proposed tax cuts contained in Gov. Glenn Youngkin's budget amendments, which he presented in December. The governor has touted his proposed tax cuts as a way to "compete to win" against other southern states, who he claims are attracting both people and businesses.
During a presentation to lawmakers Wednesday, Secretary of Finance Stephen Cummings shared that the retention rate for college graduates in Virginia is 37%, which he says indicates the majority of graduates are relocating to other states for jobs after college.
"We're educating a lot of very smart people in a great system, but we're not retaining them to be an important part of our workforce," Cummings said.
Supporters of HB 2319 contend the bill will result in savings for Virginia taxpayers and enhance workforce retention, while opponents have voiced concerns about impacts to state revenue as a result of cutting the income tax rate for top earners.
Under Virginia's tax system, individuals earning more than $17,000 per year are in the top bracket and are taxed at 5.75%. Individuals making between $5,000 to $17,000 are taxed at 5%.
The author of HB 2319, Delegate Joseph McNamara, R-Roanoke, estimated the top marginal tax bracket applies to 85% of the Commonwealth's taxpayers.
"By reducing this top bracket, we are providing meaningful tax reduction and an opportunity for our citizens and our taxpayers to experience a reduction in tax liability," McNamara said Wednesday.
Opponents of the bill argue change is needed to make the state's tax structure more progressive, and disagree with the bill's provision to give top earners a tax break.
Megan Davis, a tax and budget policy analyst with The Commonwealth Institute, voiced opposition to the bill Wednesday, telling lawmakers that a permanent top rate tax reduction will cost Virginia upwards of $333 million per year – funding advocates say it could be used to pay for education, housing and health care.
"Rather than a tax cut that will result in permanent damages to revenues, we can make the state's tax code fairer by ensuring wealthy individuals pay their fair share by establishing tax brackets to pay for tax policies like raising the standard deduction, improving earned income tax credit and establishing a State Child Tax Credit," Davis said.
During Wednesday's hearing, Del. Vivian Watts, D-Fairfax, introduced an amendment that would strike the provision of the bill reducing the top income tax rate. The proposed amendment was ultimately voted down by lawmakers on the committee.
Watts referenced a study conducted by the Joint Legislative Audit and Review Commission on ways to make the state's income tax more progressive, which recommended increasing taxes on higher earners and updating the state's tax brackets to account for inflation.
Watts said she agreed with the bill's provision to increase the standard deduction, but said reducing the top income tax rate "is one of the most regressive changes we could make."
Lawmakers' vote to advance the bill out of committee means the legislation cleared its first hurdle in the General Assembly. In order to be enacted, it will need to receive bipartisan support among lawmakers in the Democratic-controlled state Senate.
In other committee action Wednesday, lawmakers also advanced a bill along party lines that would reduce the top corporate tax rate from 6% to 5%.
0
Comments