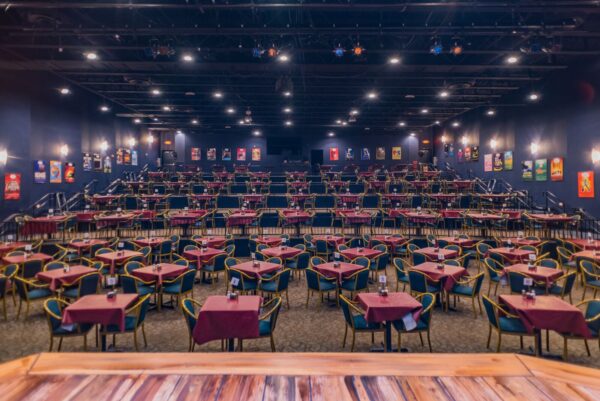 The Riverside Center for the Performing Arts in Stafford County celebrated 25 years in business.
The center's director, Patrick A'Hearn, thanked the community for its support during a ribbon-cutting ceremony organized by the Fredricksburg Chamber of Commerce on Thursday, February 2. A'Hearn recalled visiting with a guest who doubted the dinner theater would survive.
"Well, here we are. Here we are 25 years later," said A'Hearn.
"We continue to do amazing things, and we will continue to do amazing things. Yes, we survived the pandemic, and it's quite wonderful. But we did it with the support of this community. We did it from the support of our patrons," A'Hearn continued.
The dinner theater markets itself as bringing Broadway to the Fredericksburg region. Some of the shows scheduled at the center in 2023 include "42nd Street," "Ragtime," "Joseph and the Technicolor Dream Coat," and "Miracle on 34th Street."
A'Hearn said the dinner theater stays true to early supporter Rollin E. Wehman, from whom the theater is named, who advocated for a regional performing arts theater. "His dream that it has made it possible for someone like myself and the people behind me to get the opportunity to do what they love to do," added A'Hearn.
Several of the dinner theater's cast and employees stood behind A'Hearn as he spoke. He thanked each for their work and dedication to the center.
Rep. Abigail Spanberger (D, Va.-7) submitted a letter read aloud during the ceremony.
Tom Coen, a high school history and government teacher of the Stafford County Board of Supervisors, also spoke during the ceremony. "Not only does The Riverside bring Broadway to Stafford with hundreds of main stage productions, musicals, dramas, but also you support our community through youth programs, as you've heard, annual scholarships, said Coen.
The theater sits at 95 Riverside Parkway in Stafford County and combines 36,000 square feet of dinner theatre and conference facility. Over half a million patrons have experienced the enchantment of Riverside Center since 1998.
In 2016, the facility was rebranded as Riverside Center for the Performing Arts.
0
Comments